PC market collapses ahead of Windows 8 launch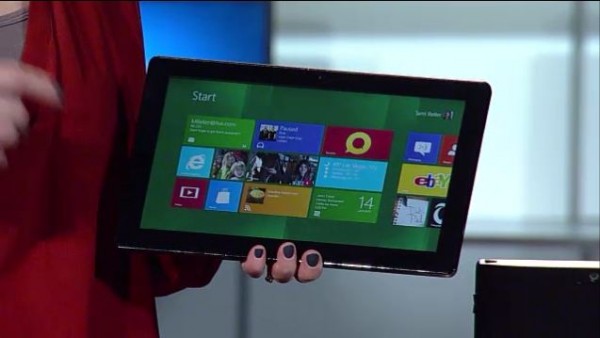 If you can't figure out why CEO Steve Ballmer talks about reinventing Microsoft as a "devices and services company", Jay Chou, IDC senior research analyst, has an answer. "PCs are going through a severe slump". That's being polite in mixed company, when the F-word is so much more appropriate. Third-quarter PC shipments accentuate an already dreadful trend. Analysts expected slowing shipments as the market prepares for Windows 8, but nothing quite like this. The seasonal back-to-school lift collapsed, with even Mac shipments slowing.
Global PC shipments fell 8.6 percent year over year, according to IDC, surpassing the minus 3.8 percent forecast. Gartner's estimate is a more generous 8.3 percent decline. The United States, a region recently in love with tablets, is in free fall, with shipments down 13.8 percent by Gartner's reckoning and 12.4 percent according to IDC. For the better part of a year, analysts excused declining PC shipments as market anticipation for Windows 8. But the slowdown during back-to-school buying season foreshadows weakness ahead.
Back-to-School Bust
"There was great hope through the first half that 2012 would prove to be a rebound year for the PC market", Craig Stice, IHS senior principal analyst, says. "Now three quarters through the year, the usual boost from the back-to-school season appears to be a bust, and both AMD and Intel's third-quarter outlooks appear to be flat to down".
Declines aren't just global. "The third quarter has historically been driven by back-to-school sales, but US PC shipments did not increase, not even sequentially, from the second quarter of 2012", Mikako Kitagawa, Gartner principal analyst, says.
In earlier quarters, even when other manufacturers saw declines, Apple continued a hearty growth track. Q3 is typically one of Apple's best, given the Mac's popularity among schools. But shipments fell 6.1 percent or 7 percent, respectively, according to Gartner or IDC. Apple is the bird in the coal mine, and it just croaked.
"Retailers were conservative in placing orders as they responded to weak back-to-school sales", Kitagawa observes. "By the end of September, retailers were focused on clearing out inventory in advance of the Windows 8 launch later this month".
Schools typically buy new tech when needed, not when released. Apple launched OS X Mountain Lion near the start of back-to-school buying, while Microsoft guaranteed free upgrades to Windows 8, which goes on sale in 15 days. From perspective of need and timing, there's no reason to wait -- unless perhaps if education bought something else.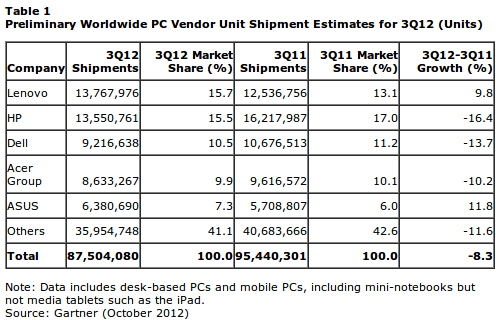 Canary in Coalmine
Declining Mac shipments foreshadow much. Apple doesn't announce calendar third-quarter results for two weeks, but Q2 shows an important trend -- at least in the education market. Recent iPad sales wins include 11,000 to Mansfield Texas Independent School District and 25,000 to the San Diego Unified School District. "We sold more than twice as many iPads as Macs to US education institutions", Apple CFO Peter Oppenheimer said about calendar second quarter, in July.
The point: iPad takes away some Mac sales and Gartner and IDC analysts have acknowledged similar tablet trend for Windows PCs.
Once again, tablets lift their screens and raspberry PCs. Despite continued computer manufacturer or trade analyst denials, tablets offer so much at a time when personal computers offer so much less. "While the industry has been focused on shaving excess inventory and preparing to launch a new generation of products, consumers have been looking at alternative devices like tablets", David Daoud, IDC research director, concedes.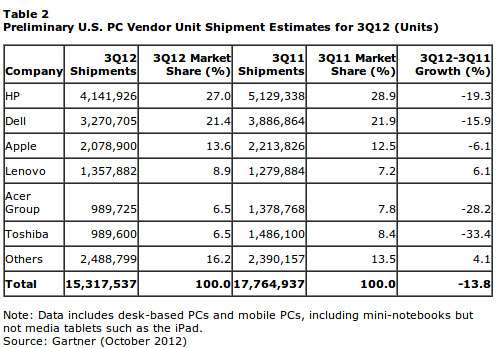 The big, new Windows PC designs are all fourth-quarter gambles, but consumers and even some businesses aren't waiting around for them. Twenty-five percent of US adults have access to a tablet, according to Pew (22 percent as owners, 3 percent sharing with someone else in the household). Sixty-eight percent got their tablet within the last year, and 32 percent during 2012. Considering selling prices for 10-inch tablets are about the same, or even more, than laptops, each pad purchase is potentially one taken from PCs.
Keeping Faith
"The hard question of what is the 'it' product for PCs remain unanswered", Chou says. "While ultrabook prices have come down a little, there are still some significant challenges that will greet Windows 8 in the coming quarter". Microsoft and its OEM partners bank much on Windows 8 tablets, which may be the only hope.
But Windows 8 is a leap of faith, because businesses aren't buying either. "Professional PC shipments in the US began slowing in the second quarter of this year, and they continued the trend in the third quarter", Kitagawa says. "The results indicate that the replacement peak may have passed in the professional sector".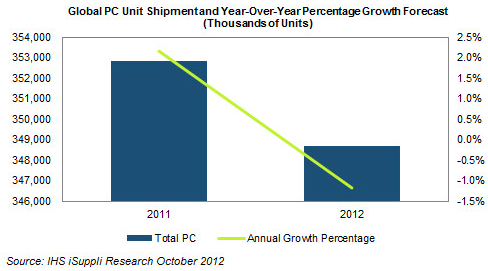 Daoud remains a Windows 8 believer. "As vendors line up innovative new products and designs, consumers are likely to respond positively during the tail-end of 4Q12, and that means a potential return to positive growth at the end of this year". But how can he not be, given IDC's client base?
Other analysts can't keep the faith. "Optimism has vanished and turned to doubt, and the industry is now training its sights on 2013 to deliver the hoped-for rebound", Stice says. "All this is setting the PC market up for its first annual decline since the dot-com bust year of 2001".