Samsung Galaxy S III shipments triple in just three months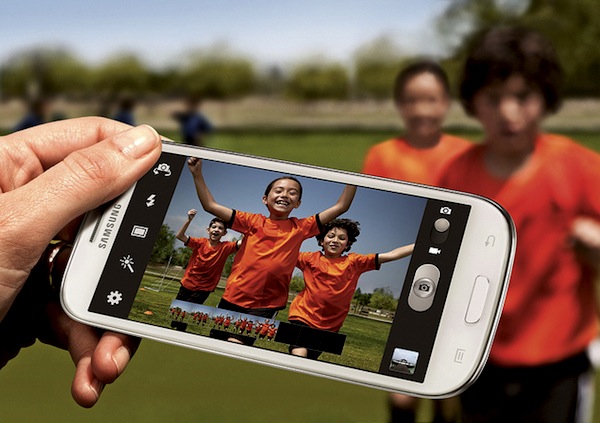 Sometimes, we don't agree on what's the best approach to stories. Colleague Mihaita Bamburic and I looked at the same Strategy Analytics numbers but reach different takeaways. He focuses on Samsung Galaxy S III shipments surpassing iPhone 4S during Q3. I latch on to something else: S3 shipments tripling in one quarter.
Samsung started selling S3 internationally on May 29 -- 28 countries to start, with expansion planned to 147 locales from 297 cellular carriers. The smartphone soft launched in the United States on June 21. According to Strategy Analytics, Samsung shipped 5.4 million Galaxy S IIIs during second quarter, more than tripling to 18 million in Q3. That's a helluva change, even for a new product shipping first time into the sales channel.
The number rings with another Samsung touted earlier this week: 30 million S3s sold in just five months. That number reconciles nicely with Strategy Analytics data, for average 6 million per month and no signs of let up despite Apple's September 21 launch of iPhone 5.
By several other measures, Galaxy S III proves to be a big winner for the South Korean electronics giant. Samsung is the global leader in smartphones and overall handsets -- 31.3 percent and 23.7 percent shipment share, respectively -- according to IDC. Samsung had more than double Apple's smartphone share (15.1 percent) and shipments (56.3 million to 26.9 million).
In May I asked: "Will you buy Galaxy S III?" Among the 4,999 respondents so far, 21.07 percent pre-ordered, with another 27.53 percent planning to buy within tree months. Among the 2,100 people so far responding to "Will you buy iPhone 5?", 67.05 answered "no". That compares to 36.91 percent for the S3. You be the judge which phone BetaNews readers more hotly demand.
A year ago, I saw more people with iPhones than any other smartphone walking around San Diego. This is a tourist town, which expands the demographic. Today I see about as many Galaxy S IIIs -- predominately white, by the way -- and often more. Last week, I chatted with a lively Hispanic cook working at a sports bar. There's not a geek bone in this guy's body, but he has the S3 and loves it. When I asked why, he started talking about the benefits of sync -- although he didn't use that word. As I starting saying almost a decade ago, sync is the killer app for the connected era.
I haven't seen many iPhone 5s yet round about San Diego, but expect to observe many more. Apple claims 5 million sales during launch weekend, from 9 countries. Strategy Analytics puts iPhone 5 shipments at 6 million, so just one more, before the quarter ended. Both numbers suggest an impressive launch.
How well will Galaxy S III compete? Surely Samsung gets some boost from the broader ecosystem -- three out of four smartphones shipped in third quarter had Android, according to IDC. Isn't competition fun?