Samsung unveils Premium Suite for the Galaxy S III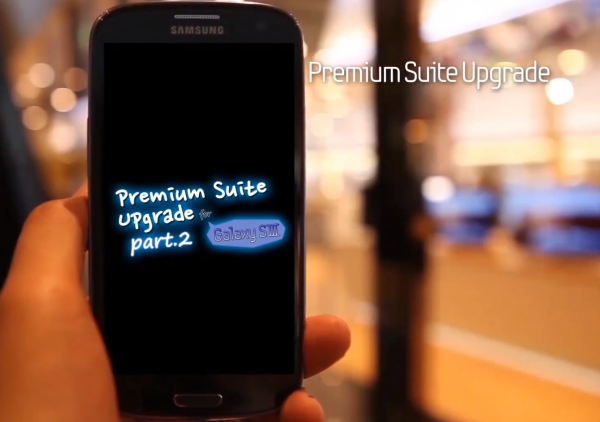 Little more than six months into the Galaxy S III's lifespan, Samsung has announced a software upgrade for the popular Android smartphone. Dubbed Premium Suite, it delivers a number of new features borrowed from the Galaxy S III's bigger brother, the Galaxy Note II.
Some of the most noteworthy improvements include Multi Window, which lets users view two apps concurrently, Page Buddy, for contextual actions (like opening the music player after headphones are plugged in), and Best Face and Low Light Shot, that allow users to select the best out of five pictures, and improve photography under bad lighting, respectively.
Other Premium Suite functionality includes Contextual Menu and Tag, Auto Share Shot Pairing, Reader Mode, Facebook Lock Ticker, Paper Artist, Easy Mode, Sound Balance, Setup Wizard and Easy Snap. The Premium Suite upgrade looks to freshen up the Galaxy S III during the winter shopping season, but without taking sales from the more recently introduced Galaxy Note II which still boasts a greater number of advanced features.
The software upgrade will not transform the smartphone into a more pocket-friendly version of its larger sibling, as the usual S Pen optimized functionality appears to be missing. The handset will instead receive features designed for a more direct interaction between man (or woman) and machine, bypassing the apparent need for a stylus.
However a software upgrade like this does not happen overnight, and it's fair to assume that it is a premeditated act on Samsung's behalf. With ever increasing competition from the likes of HTC, through the recently introduced One X+, DROID DNA and Butterfly, or LG's Optimus G, the South Korean manufacturer appears to be giving the handset a boost until its successor is released.
Samsung did not provide any details as to when Galaxy S III owners can expect the Premium Suite to land. As usual it's fair to assume that the international variant (codename I9300) will arrive first, followed by carrier-branded handsets next.