Santa writes the PC's obituary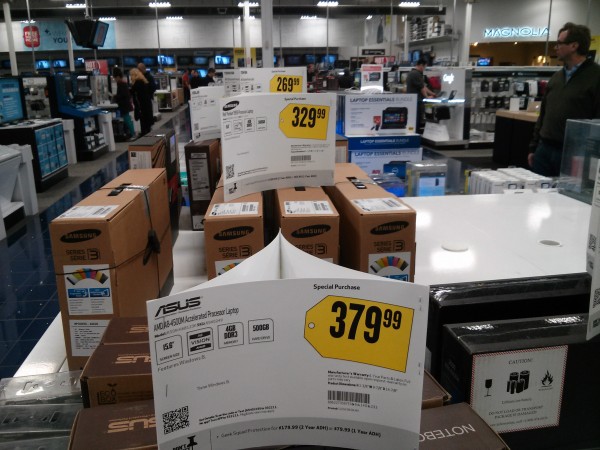 I lost hope for Windows 8 last night, after visiting my local Best Buy store and seeing gads of cheap computers vying for customers' attention and losing it to tablets and smartphones. The prices are insanely low, which is more surprising because Microsoft has a new operating system that's supposed to generate demand and lead to market innovative touchscreen and convertible designs that offer real benefits to buyers and higher margins to manufacturers and retailers. Ba! Humbug! Gimme Grinch. There's no Santa coming to this island of misfit toys. There, have I mixed enough metaphors to make the point?
This morning, I looked at PC prices from other retailers and the shock is greater still. I'll look first at Best Buy, which has some terrific bundles, starting at $299.99, for Windows 8 Dell or HP laptop, case, mouse, USB stick and security software (with 12-month subscription). Is that too much for you to spend? Best Buy has a Toshiba model for $269.99 with AMD dual-core processor, 15.6-inch LED display, 2GB RAM, 320GB hard drive, DVD burner, WiFi and all the ports you'd expect. For $329.99, you can move up to Intel processor, 4GB RAM and 500GB with a Samsung Series 3 laptop. At my local store, boxes fill the main aisle adjacent to the tablets. Meanwhile, Best Buy tucks expensive Ultrabooks further back, in a smaller side-isle display area almost anyone could miss.
These prices sure seem low to me, again considering Windows 8 is fresh to market. But Stephen Baker, NPD's vice president of industry analysis, disagrees. He says average selling prices are up this holiday season. "ASPs have been rising all year", which was one of Intel's goals with the whole ultrabook push. He also says holiday bundles aren't any more aggressive than the past.
"Last year average selling price for a windows PC for first 3 weeks of the holiday was $407, this year $417", Baker tells me today. "Laptops only are $407 -- last year $401". Right, but shouldn't there be more lift from all these newfangled Windows models? Perhaps I expect too much. But I also look in context. Third-quarter PC sales fell below analyst estimates as back-to-school buying fizzled.
Global PC shipments fell 8.6 percent year over year, according to IDC, surpassing the minus 3.8 percent forecast. Gartner put the decline at 8.3 percent. In the United States, shipments fell 13.8 percent by Gartner's reckoning and 12.4 percent according to IDC. Three weak quarters of sales sets "the PC market up for its first annual decline since the dot-com bust year of 2001", Craig Stice, IHS senior principal analyst, says.
The PC has been the hub for computing activities, but Gartner says that by 2014 the cloud will be. That's a problem for Microsoft and its partners as the PC becomes more of a utility device, like the microwave, toaster or TV. Perhaps Google understands this, with its holiday Chromebook push.
In the Best Buy store photos above and below, you can see the small Chromebook display, which Google staffs, selling $199 and $249 models running Chrome OS. Chromebook is sold out at Best Buy, which is still the best place to snag one this holiday. Google Play offers $199 Acer and $249 Samsung models, but only the lower-cost one is in stock. At Amazon, the Samsung Chromebook is top seller in the notebook category, a position held since late October and that despite being sold out.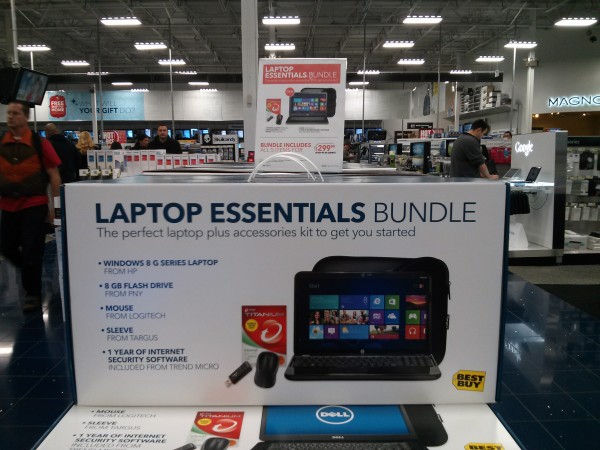 At Best Buy last night and on several other visits this holiday season, I observed massive crowds in the tablet area and little to no activity around laptops. At Amazon, in the broader "Laptops, Tablets & Netbooks" category, only one computer makes the top-10 best sellers (at No. 7): $249 Chromebook. There is only one Windows laptop in the top-20, a $459.99 Dell (at No. 19). Surely all this says something about the current state of the Windows 8 PC.
I know people shop for deals during the holidays, but if Windows 8 convertibles, touchscreens and ultrabook had big appeal wouldn't Best Buy prominently display them? Meanwhile, at my local store, tablets dominate the main front area and boxes of cheap laptops fill the central aisle. C`mon, do you want Santa to bring a shiny new laptop or tablet this year?
If Windows 8 can't generate interest in PCs during its first holiday season, what can? Analysts will answer the whats and whys in early January when tabulating global PC shipments and sales. Maybe I'm wrong, and I would gladly be, but lest something changes before year's end coal is the only thing going in the Windows PC holiday stocking this year.
Photo Credits: Joe Wilcox