What is Facebook building?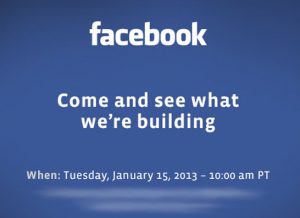 I like a good mystery. When Samsung teased us with 'something new' I wanted to know what it was (I'm still not entirely sure, to be honest, given Samsung announced so many products at CES). When Microsoft says it's sold 60 million licenses I want to know how many of those were sold to consumers (Microsoft remains tight lipped).
And now a new mystery has arrived to pique my interest, this time courtesy of Facebook. The social network has sent out invitations to the press inviting us to a media event at its Menlo Park, Calif., headquarters on January 15 to "see what we're building". Since press events are rarely held at Facebook's corporate HQ, it's likely to be something big.
There are no other clues on the invite, just that it starts at 10am PT and will likely go on for a few hours, seeing as Facebook says it intends to serve lunch afterwards.
So what could it be? Some people are guessing at the long rumored Facebook phone, but that remains unlikely. Improved search facilities is a possibility. It could be anything, really.  Care to take a guess? All will be revealed next week.