Why I'm not impressed by the new Samsung Galaxy S4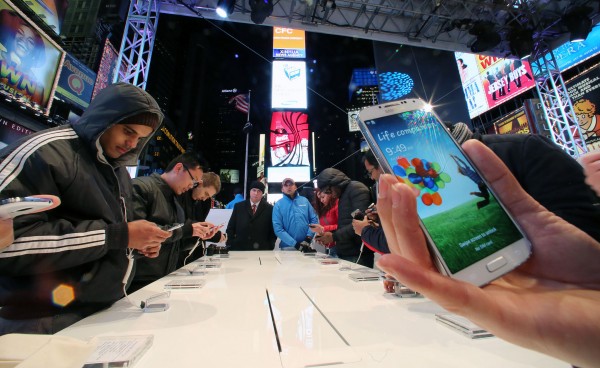 When I was expecting an exotic dish that would blow my mind just by looking at it, Samsung yesterday served up a plain, simple and frankly overdone spaghetti Bolognese. The new Galaxy S4 might just be the best Android smartphone that Samsung has ever made, but it's not as "awesome" or "innovative" nor filled with "innovation" as the company would lead us to believe. It's a wife with some nip and tuck instead of a hot supermodel.
Instead of being smitten by the Galaxy S4 I was left with a bitter taste in my mouth: Haven't I seen some of those features already in older smartphones? Admittedly, there are some impressive ones out there -- like Dual Camera and Dual Video Call -- but generally speaking Samsung appears to have focused more on delivering a huge number of features rather than focusing on fewer truly innovative ones.
"Borrowed" Features?
I wouldn't call some of the features a xerox copy of currently available options, but there are a few in particular that I think (well, I know) that I have seen before.
The first relates to the touchscreen, which can now be operated using gloves -- unless you have thick leather ones like me, which makes taking out the phone rather difficult. It's a feature aimed at markets where it's freezing cold. So where have I seen it before?
Well, the glove-friendly touchscreen is already available on the Nokia Lumia 920 which was unveiled in late-October last year. Admittedly the Lumia 920 does not have a 5.0-inch display, but it's the same idea nonetheless.
What about Knox, Samsung's program for BYOD? In late-January, Canadian smartphone maker BlackBerry unveiled the BlackBerry 10 operating system which comes with Balance, a feature which enables the separation between work and personal content on the company's Z10 and Q10 smartphones. What does Knox do? By and large, it separates work and personal content.
S Voice can now also read messages aloud, a feature that is pretty useful when driving like Samsung says or if you want other people to hear your embarrassing attempts at sexting. Guess what? Even the agricultural voice assistant in Windows Phone 8 can read messages.
Eraser for removing other people from pics? BlackBerry 10 Camera app does it differently by allowing you to choose a difference face, but is similar nonetheless. Smart Switch for moving between devices? Microsoft's Xbox SmartGlass gets the same job done.
The Galaxy S III Called. It Wants its Design Back
In some ways the Galaxy S4 is an evolution from the Galaxy S III just as the iPhone 4S is an evolution from the iPhone 4. Samsung did more than slightly tweak the design, making the new smartphone narrower, thinner and lighter (if you can call a few tenths of millimeter and a couple of grams a big difference) while also increasing the size of the display to 5.0-inches from 4.8-inches. It's now got a 1920 by 1080 resolution compared to the "old-fashioned" 1280 by 720 (which still works great, but hey innovation calls for bigger).
The Galaxy S4 comes with rounded corners (too rounded I should say), plastic casing with chintzy looks, wide home button and the still not elegant design. And where have I seen that? That's right, on the Galaxy S III.
I'm not suggesting that Samsung should have entirely changed the design just for the sake of it, but how about a more textured finish like HTC does on its smartphone or less rounded corners or, God forbid, a capacitive home button? The Devil is in the details, and I can only imagine he was out the day when Samsung designed the Galaxy S4.
I will not even mention that on the Galaxy S4, Android 4.2 Jelly Bean looks the same as Android 4.1 Jelly Bean on the Galaxy S III bar a couple of changes, like quick settings. I still believe that Touch Wiz could use some sprucing up in the design department, especially almost one year after the previous iteration.
What Innovation?
My colleague Joe Wilcox and I had briefly discussed the Galaxy S4 following the launch event, and after posting my first thoughts on Google+. He finds the smartphone impressive from a software and services standpoint, but is it really? Don't get me wrong, spaghetti Bolognese is fine but not mindblowing.
S Health for tracking calorie usage is a gimmick, but a gimmick that is already in other apps on Google Play. Group Play, which turns Galaxy S4 owners into a surround sound system, is nice but only if every friend you or I have has a Galaxy S4 and feels like the smartphone has better speakers than a bar, pub or club. Adapt Display can adjust screen settings depending on the scenario, sort of like cheating to make stuff look better when they don't.
While bigger is better in this case, a large 2,600mAh battery coupled with a 5.0-inch Super AMOLED display and a power-hungry Qualcomm Snapdragon 600 or an Exynos processor is not there to break any battery life records. Samsung should be commended for slapping in a larger battery (compared to the one in the Galaxy S III), but why not make it a 3,000mAh unit and keep the same thickness as on the Galaxy S III? I'm sure plenty more people could have appreciated that instead, myself included.
It's worth noting here that even though Samsung will market the Galaxy S4 with a quad-core Qualcomm processor or a quad core + quad core Exynos processor, there's no choosing which one will arrive at your local carrier. I'm also not swayed by the Octa-core moniker, because it's not in fact an 8-core processor in the traditional point of view. Only four cores work at the same time, while the remaining four are cut down -- it's a 4 + 4 design and a misleading one for users who don't know any better than "eight cores are better than four".
I'll tell you this, though -- the Galaxy S4 will sell like crazy. But would I buy one? No
Photo Credit: Samsung