Post-PC era is REAL for U.S. Apple users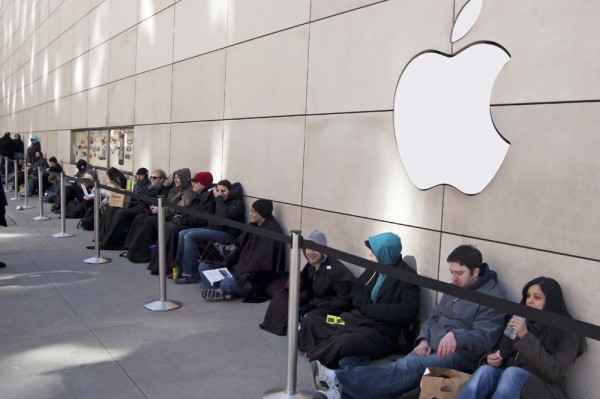 Today, comScore started a new service that ranks the top U.S. websites by desktop and mobile views -- the latter is a new measurement. Some of them really pop off the chart, with Apple glaring among traditional companies. More than one-third of unique visitors in February accessed the site via mobile device-only. That compares to 5 percent for Microsoft properties. Analysts, bloggers and journalists often portray the fruit-logo company as best representative of the so-called Post-PC era, and Windows' maker the epoch in decline.
The numbers aren't shocking, if you think about them. Windows has little presence on smartphones or tablets. Microsoft mobile OS smartphones share was just 3 percent during fourth quarter, according to Gartner. IDC forecasts Windows tablet market share, based on unit shipments, will be less than 5 percent this year. By comparison, iOS has greater reach, with, according to the company, cumulative shipments exceeding 500 million. Hell, Apple sold 43.5 million iPhones just in Q4, according to Gartner.
That's where the numbers get wonky. Microsoft's presence is so low, comScore ignores it. The data only compiles from Android and iOS users. So, looked at differently, is it surprising that Microsoft has such low showing from mobile users on devices running competing operating systems?
Apple's showing is surprising and yet not. Cofounder Steve Jobs aggressively promoted the post-PC concept, and the company incorporates it into all iOS devices. Of course, not everyone going to the company's web properties does from iOS. But there are enough core users out there to make reasonable assumptions about broader trends.
Some of the other numbers are worth a gander. Mobile-only to Google sites is surprisingly low: 13.7 percent. Remember, the numbers include search and other services, and Google is all about the cloud. Amazon is 21.5 percent mobile-only and Facebook is 16.8 percent.
For the broader U.S. market, just 6 percent of total unique "digital population" views come from mobile-only, which makes the percentage for Apple -- and also Amazon -- really stand out. Services that strongly cater to mobile audiences are unsurprising, by comparison. Groupon and Pandora are 69 percent and 64.6 percent, respectively.
The comScore chart below also provides non-exclusive mobile and desktop numbers. The mobile-only figures show how few Americans have truly gone Post-PC and suggests that among them, Apple users are considerably higher than average.
Media Metrix Multi-Platform Top 50 Properties
February 2013
Total U.S. (Age 18+ on iOS & Android platforms for Mobile)
Source: comScore Media Metrix Multi-Platform
Unique Visitors/Viewers (000)
Total Digital Population
Desktop*
Mobile**
Mobile-Only
Mobile Audience Incremental % to Desktop
Total Internet : Total Audience 
235,855
221,379
127,106
14,475
7%
1
Google Sites
228,084
196,782
107,604
31,302
16%
2
Yahoo! Sites
210,603
186,596
88,876
24,007
13%
3
Microsoft Sites
175,902
166,346
48,867
9,556
6%
4
Facebook
174,800
145,306
99,698
29,494
20%
5
Amazon Sites
147,031
115,363
74,122
31,668
27%
6
AOL, Inc.
130,619
115,202
54,010
15,417
13%
7
Glam Media
126,117
104,517
48,016
21,600
21%
8
Apple Inc.
115,920
75,358
62,104
40,562
54%
9
Wikimedia Foundation Sites
109,523
85,856
49,296
23,667
28%
10
CBS Interactive
100,772
85,783
34,029
14,989
17%
11
Turner Digital
98,311
81,501
38,424
16,810
21%
12
Demand Media
97,250
78,512
35,800
18,738
24%
13
eBay
84,677
65,764
41,355
18,913
29%
14
About
83,743
64,782
30,000
18,962
29%
15
Ask Network
81,430
69,355
20,933
12,075
17%
16
Comcast NBCUniversal
81,275
67,183
32,193
14,092
21%
17
Viacom Digital
79,966
70,446
20,194
9,520
14%
18
The Weather Company
76,642
56,120
37,368
20,522
37%
19
Pandora.com
65,142
23,035
51,977
42,107
183%
20
Gannett Sites
63,055
47,611
27,023
15,445
32%
21
Answers.com Sites
60,861
47,738
17,832
13,123
27%
22
VEVO
58,010
55,953
4,586
2,057
4%
23
Yelp.com
55,641
36,775
27,569
18,866
51%
24
Twitter.com
55,540
35,963
31,372
19,577
54%
25
craigslist, inc.
55,520
46,380
18,839
9,140
20%
26
Adobe Sites
54,840
40,984
19,810
13,856
34%
27
Federated Media Publishing
54,607
39,577
24,297
15,030
38%
28
Hearst Corporation
54,498
41,514
20,967
12,984
31%
29
Linkedin
54,071
45,699
14,978
8,371
18%
30
Wal-Mart
52,857
38,854
22,397
14,004
36%
31
WebMD Health
50,841
32,641
27,614
18,200
56%
32
NDN
46,262
46,260
N/A
N/A
N/A
33
Meredith Women's Network
45,533
32,253
19,771
13,280
41%
34
ESPN
44,759
30,348
27,735
14,411
47%
35
Tribune Interactive
44,618
32,991
17,982
11,627
35%
36
New York Times Digital
44,206
33,175
19,869
11,031
33%
37
YP Local Media Network
43,191
30,112
17,539
13,079
43%
38
Pinterest.com
41,210
26,972
22,994
14,238
53%
39
Disney Online
39,551
27,621
18,022
11,930
43%
40
Netflix.com
38,987
29,205
21,480
9,782
33%
41
Everyday Health
38,720
27,143
16,141
11,577
43%
42
Intuit
38,029
29,091
15,105
8,938
31%
43
Discovery Digital Media Sites
37,590
30,504
10,622
7,085
23%
44
Zynga
37,459
12,051
29,936
25,408
211%
45
Fox News Digital Network
37,340
29,829
15,276
7,512
25%
46
Scripps Networks Interactive Inc.
37,050
26,514
15,469
10,536
40%
47
Groupon
36,924
11,421
28,722
25,503
223%
48
WordPress.com
36,846
27,964
11,976
8,882
32%
49
Target Corporation
36,061
23,043
18,028
13,018
56%
50
Time Warner (Excl. Turner/WB)
35,142
25,729
13,693
9,413
37%
Photo Credit: jkirsh/Shutterstock