Google unveils 'Classroom' -- a new tool for teachers


Modern classrooms are often anything but -- they can be very outdated. This comes down to many factors, including funding. However, antiquated techniques that are still in practice can be blamed on a lack of technology too. Teachers are not always educated in the newest education management software. Even if they are, it can sometimes be clunky and not cost effective.
Google is aiming to change this with a new tool it calls Classroom. This teaching management solution will eventually be a part of the Google Apps for Education (at no additional charge). Today, to celebrate Teacher Appreciation Day, the search giant is accepting applications from teachers to test it.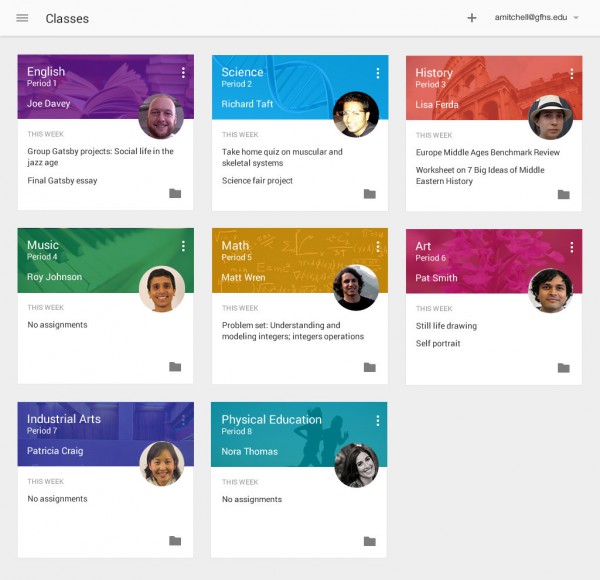 "As a former high school math teacher, I know all too well that teachers spend a ton of valuable time doing things other than teaching -- waking up early to grade quizzes, collecting and returning piles of paper assignments, and battling copy machine paper jams. But with today's technology it doesn't have to be this way. Many teachers and professors have found ways to use technology to be better educators and avoid busy work. We spent the past year working closely with many educators to understand the systems they use to simplify their workloads, so they can get back to doing what they love -- teaching", says Zach Yeskel, Classroom product manager.
Yeskel further explains, "in honor of Teacher Appreciation Day, we're announcing a preview of Classroom, a new, free tool in the Google Apps for Education suite. It helps teachers create and organize assignments quickly, provide feedback efficiently, and communicate with their classes with ease. Classroom is based on the principle that educational tools should be simple and easy to use, and is designed to give teachers more time to teach and students more time to learn".
Create and collect assignments: Classroom weaves together Google Docs, Drive and Gmail to help teachers create and collect assignments paperlessly. They can quickly see who has or hasn't completed the work, and provide direct, real-time feedback to individual students.
Improve class communications: Teachers can make announcements, ask questions and comment with students in real time -- improving communication inside and outside of class.
Stay organized: Classroom automatically creates Drive folders for each assignment and for each student. Students can easily see what's due on their Assignments page.
As you can see, Google has definitely done its homework (pun intended) regarding what teachers need. Organization and communication are key for success in a classroom. Students will have no excuse for missing an assignment or claiming a teacher forgot to tell the class about something. Of course, that won't stop them from trying to say the dog ate their homework!
If you are a teacher that is interested in signing up for the preview, you can do so here.
Photo Credit: racorn/Shutterstock