I cut cable's cord again and mean it this time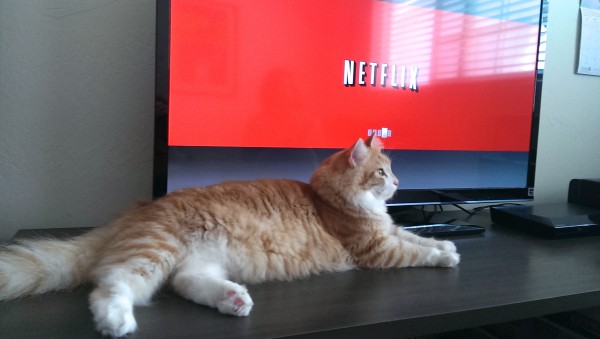 Overnight, AT&T U-verse went dark in the Wilcox household. We're cord cutters once more. A year ago, we let the service go for about two weeks but returned after Cox Internet failed to deliver constant connection. When going back to AT&T for just the Net, the company made an offer I couldn't refuse: Hundreds of channels, HD, DVR, and Internet for $99 a month. Cost would be $69 without the television service.
But with Game of Thrones and Walking Dead behind, and the 12-month contract expired (yesterday), streaming is once again high on the thrifty list. I made several phone calls looking for an AT&T deal that would keep us customers, but no offer matched Cox, which guarantees pricing for a year without locking me into any commitment. We set up service about 10 days ago, hoping the Internet would stop yo-yoing around.
Turns out that a simple adapter solved the problem. The technician claims the signal was too strong for a single line, which the doohickey dampened. I considered Cox's deal that would have given us 48 channels, local and a few others; HD; HBO; and 24Mbps Internet, same speed as AT&T -- all for $59 a month. In the end we opted for faster speed, 50Mbps, for the same price -- $10 less than U-verse for twice the bandwidth.
The big difference is upload speed, and I punch up lots of content to the cloud. Downstreaming is consistently 35Mbps to 48Mbps wireless, depending on device and location. The TV and modem are in separate rooms. I use the D-Link DIR-868L router between them and for general household WiFi. The AC wireless router charms big bandwidth throughout the Wilcox household.
Roku 3 is our primary streaming device, and I must say that the Hulu Plus update is timely. Apple TV is second. Chromecast is on ice during my Google-free experiment, which won't last beyond Labor Day. I may get Amazon Fire TV. I asked for a review model awhile back, but didn't receive one.
I fired up the small, powered antenna, which is useless. The thing found 7 channels -- five in Spanish. There's COZI, which is new to me, and NBC. That's it. Not even PBS. So for the foreseeable future, we're a streaming household.
Believe it or not, Amazon's Kindle Unlimited weighed heavily in our decision to cut the cord. My wife and I see huge value in the service; we'd rather shift cable costs to reading. Our brains need more exercising and imagination.
As for video, we already were heavy streamers. Now, that is all we are. In the coming months, I will share some insights based on my cord-cutting experience. If you have something to say, don't wait. Evangelize others in comments to this lifestyle -- or against it, if that's your position. Colleague Alan Buckingham offers an excellent primer for would-be snippers and streamers.
I make the third attempt. Twice before, AT&T pulled me back with an offer too good to refuse. Not this time. Hehe, we'll see how strong is my resolve when Game of Thrones returns next Spring, eh?
Photo Credit: Joe Wilcox