Microsoft supercharges Cortana with new Bing features -- can it beat Siri and Google Now?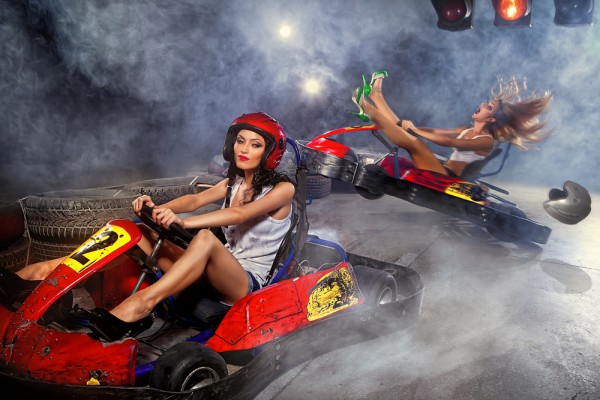 Google is the king of both search and personal assistants. As great as Cortana and Siri are, Google Now is currently superior, offering more functionality. Quite frankly, Google Now is so good at learning about you, that at first, it can seem a bit creepy. Still, Cortana is steadily making progress and Microsoft's personal assistant is becoming more formidable with every passing day.
Today, Microsoft announces that it is supercharging Cortana with better Bing features and integration. The question is, will these new features usurp Google Now?
"A few months ago, we talked about how we're making search more personal. We discussed how Bing's massive investments towards indexing the real world combined with speech recognition, entity understanding, and stream processing are making things like Cortana more helpful and intelligent. This week we are rolling out some new improvements that take advantage of these advancements and are making Cortana more useful", says The Bing Team.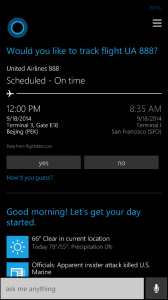 The Bing team further explains, "every morning, Cortana shows you a daily glance of all the information you need to start your day. She displays current weather, the first appointment on your schedule, projected travel time to work and the top headlines of the day. Many of you have asked us to create something similar to end your day. We heard you loud and clear. Starting today, Cortana will show you travel time to home and upcoming items on your calendar so you're sure to be on time for that dinner date or know to go to bed early for that 7 a.m. meeting. To ensure you're getting the most from this feature be sure and update Cortana with your home and office addresses".
This is great stuff for staying organized and on-time for work. Frequent business flyers will be glad to know that Cortana will now learn and monitor your flight status. This should prevent you from missing an important meeting in a different city, state or country. Travelers aside, friends, family or Town car companies can utilize Cortana when picking someone up from the airport.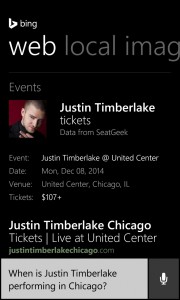 Besides business and travel, people do not just work -- they play too. Cortana has you covered in entertainment too, as it (she?) has improved features regarding sports and concerts. NFL fans can now see standings directly within Cortana, while NCAA football nuts can track their favorite teams. If you like soccer, additional leagues have been added such as "EPL, Bundesliga, La Liga, Italian Serie A, and Ligue 1".
If you are a fan of music like me, you probably love concerts. Well, Cortana has you covered there too. She will now track the artists that you search for, and based on your location, let you know when they are performing in your area. Never again will you miss the Jonas Brothers.
Speaking of location, the coolest new feature is location-based app suggestions. Microsoft gives the example of Cortana suggesting a Disney app while near Disney Land. Taking it a step further, it will even suggest installed apps that may benefit you in that location. I can evision having an installed sun advisory app being suggested when visiting a beach -- how cool would that be?
Microsoft is doing a great job of adding features to both Bing and Cortana, and its fun to see both evolve. While Cortana is still not on the same level as Google Now, it is definitely catching up. With that said, it seems Cortana is handily beating Siri from a functionality standpoint; Microsoft should take pride in that win over Apple.
Photo Credit: Wallenrock/Shutterstock