NETGEAR launches cloud management platform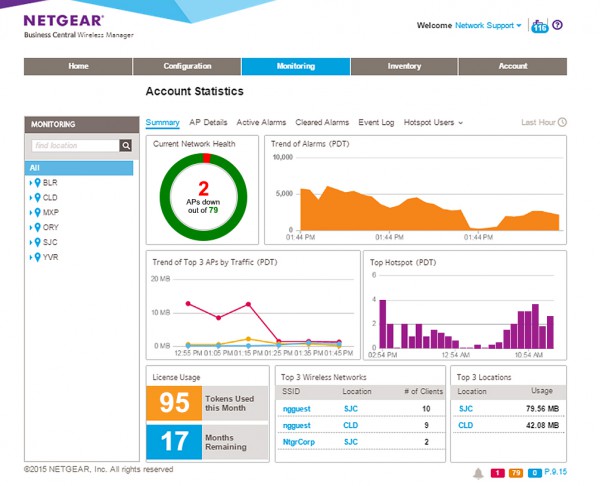 It's not uncommon for businesses to have multiple access points, whether on a single site or in multiple locations. This can lead to challenges when it comes to managing access and ensuring software and security are up to date.
To make life simpler NETGEAR is launching a software as a service platform called Business Central designed to provide small to mid-sized organizations with an affordable way to establish and manage key IT networking services and network devices.
The first service to be introduced under Business Central is a Wireless Manager which makes it easy for businesses with multiple sites like retail chains, coffee shops and those with several branch offices to roll out the same settings to every location and manage it all centrally.
"Having multiple standalone access points is no longer feasible as configuration changes become routine rather than occasional. However, for some organizations, the jump to a managed wireless LAN network can become demanding and overly complex for both IT budgets and IT resources," says Peter Newton, senior director of product management for the NETGEAR Commercial Business Unit.
"What's needed is a bridge solution between standalone APs and a controller, where flexibility, scalability and ease-of-use are standard and -- more importantly -- affordable," adds Newton. "For small to large enterprises and organizations with single to multiple branch locations, our Business Central Wireless Manager maximizes ROI and is the optimum tool for easy and cost-effective centralized WiFi management. It's an effective solution for both customer-deployed scenarios as well as a VAR-managed service. VARs and their customers can benefit from a free 90-day introductory trial".
With Business Central Wireless Manager, all management is performed remotely through a standard web browser. Admins can manage wireless SSIDs, configure wireless security settings, control free or fee-paying guest and private Wi-Fi access on the network, and run bandwidth usage reports. It allows clear, comprehensive and real-time visibility into the network for total control of evolving service needs.
Pricing is per access point per year on 12 or 36 month contracts but is arranged so that even if new devices are added mid-contract everything expires together to make licensing easier. You can find out more about Business Central Wireless Manager on the NETGEAR website.