8GadgetPack brings gadgets back to the Windows 10 desktop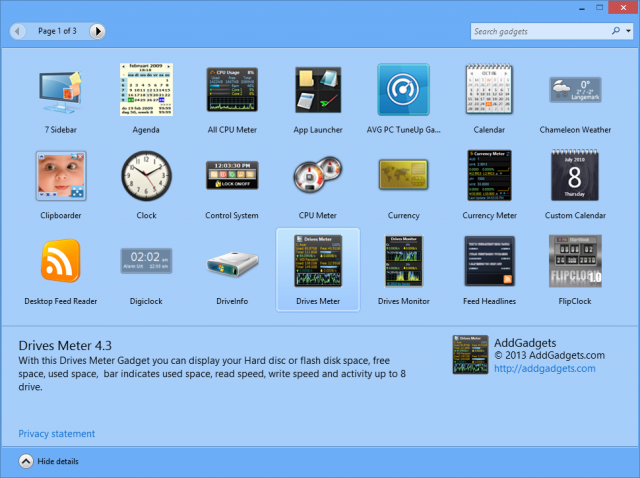 Windows gadgets made their first appearance in Vista as a convenient way to install tiny desktop tools like clocks, system monitors or weather applets.
The technology was retired in 2012 due to security vulnerabilities, but these days any danger is minimal, and if you were a fan then 8GadgetPack provides an easy way to run more than 50 gadgets on Windows 8, 8.1 and 10 PCs.
The program installs easily, with no adware, and immediately launches a few sample gadgets. Two of these displayed error messages, recommending we reinstall, but this wasn't as bad as it seemed: we shut them down and everything else worked just fine.
The core of the program is a simple browser which displays thumbnails and basic descriptions of its more than 50 gadgets. Scan the list and you'll find CPU, drive and network meters, process monitors, calendar and reminder apps, email checkers, clocks, puzzles, unit and currency converters, an internet radio tool, assorted weather checkers and more.
Double-clicking anything that looks interesting will add it to your desktop, and you can drag it around, work with the gadget, set opacity, tweak its options as required. Everything looks and feels just as it did on Vista and Windows 7.
A "Tools" dialog provides options to manage everything you install. There are buttons to make gadgets larger or smaller, run them at Windows startup (or not), organize them in a sidebar, add a new gadget, reset your gadgets to their default settings (handy for troubleshooting), or uninstall the package to get rid of everything.
We couldn't get all of these gadgets working, and many of the others are, well, basic. If you just want a good weather app or desktop clock then you'll get much better results by checking out the best freeware.
8GadgetPack is nostalgic fun for anyone who was a fan of the original gadgets, though, and there are still plenty of useful applets in its library. If you spend most of your time on the desktop then it might be worth a try.