Majority of Windows 10 users are happy with the OS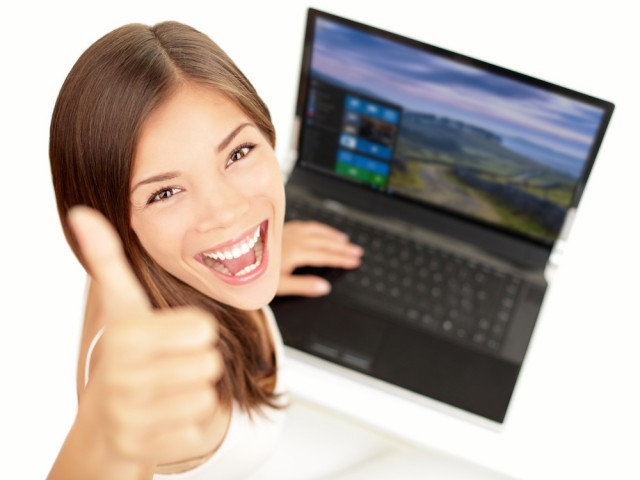 When we look at how many PCs across the globe run Windows 10, we see Microsoft's latest operating system having a relatively modest usage share of around 10 percent. That is even though it is offered as a free upgrade from Windows 7 and Windows 8.1, both of which have remained more popular so far.
However, things are quite different in US, where a new IDC survey claims that nearly 30 percent of PC users have embraced Windows 10. That figure may not accurately represent the entire PC user base in the country, due to the nature of the survey, but it certainly can be seen as a vote of confidence for both Windows 10 and Microsoft.
There are some interesting findings to report. For instance, nearly half -- around 45 percent -- of the survey respondents who have Windows 10 running on their device claim to have upgraded for free by clicking an upgrade notification.
That is no small feat, considering how much Microsoft is chastised for the way it's trying to bring as many Windows 7 and Windows 8.1 users aboard the Windows 10 ship. It would also suggest that perhaps users are liking Microsoft's strategy more than the media does, and finding it less aggressive.
Windows 10 users also seem to be quite happy with the new operating system, with over 60 percent of respondents claiming that their user satisfaction levels are "favorable" or "very favorable". In contrast, only one in ten users have responded with "unfavorable" or "very unfavorable", which, again, is quite good.
What may be a bit hard to believe is that a whopping 37 percent of those who are claiming to run Windows 10 joined the Windows Insider program before the new operating system officially launched in July and then upgraded to the stable release.
That figure suggests that a significant number of early adopters have participated in this survey, and, as we all know, the typical PC user does not bother with beta testing and trying out a new Windows release right away.
More realistically though is the number of Windows 10 users who claim to have purchased a retail copy and have performed a clean install. That would be five percent, which, in my opinion, reflects the user base of Windows early adopters and Windows Insiders more accurately than the aforementioned percentage of Windows Insiders.
There is also some bad news. A very small number of respondents -- three percent -- are considering purchasing a new Windows 10 PC, while more than half do not find Windows 10 to be a compelling enough reason to buy a new PC.
As IDC's Tom Mainelli puts it, "The poll shows that people using Windows 10 like it, which is a positive. And this survey shows that while many consumers have embraced Windows 10, they're not necessarily buying new systems to get it".
The number of respondents who have Windows 7 and Windows 8.x installed on their devices is 55 percent -- 27 percent and 28 percent, respectively. The rest are Windows XP and, to a much lesser degree, Windows Vista holdouts. It's worth pointing out that only 1,000 adults have responded in the survey, which may not accurately represent the PC user base in US.
Microsoft claims that there are now over 200 million "active" devices that run Windows 10 worldwide. The software giant expects its new operating to be installed on a billion devices in the first two to three years of availability.
Image Credit: Ariwasabi / Shutterstock