Google Search gains funding and trending info for Sanders, Trump, Clinton, Cruz, Rubio, Kasich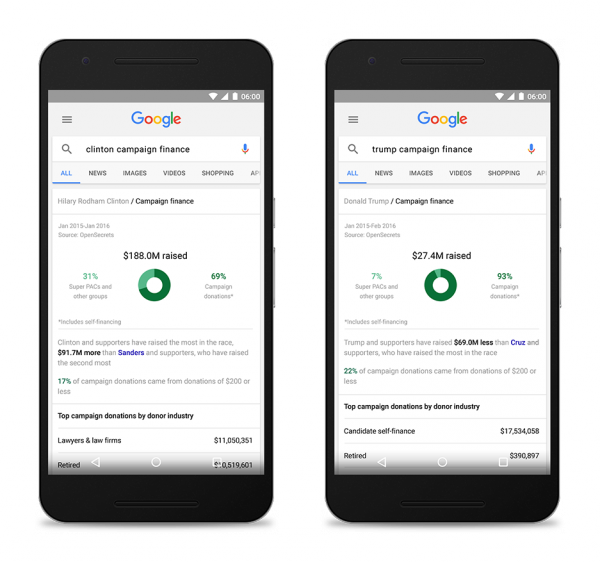 Happy Tuesday, dear BetaNews readers! While the day prior to Wednesday is usually a drag, today is an exception. Why? There are plenty of primaries today, including the coveted Florida. If you are interested in American politics, today should be very exciting. The outcome of today's voting could cause some candidates to drop from the race.
If you are still undecided on a candidate, don't worry -- it is smart not to rush important decisions. Luckily, in these modern times, there are plenty of resources about the candidates, including the venerable Google Search. Today, that search engine is getting a politics-focused update, delivering campaign funding and trending info for all of the remaining candidates -- Bernie Sanders, Donald Trump, Hillary Clinton, Ted Cruz, Marco Rubio, and John Kasich.
"Finding information on campaign funding can be difficult, if not seemingly impossible. Today, working with one of the most respected data sources in the industry, the Center for Responsive Politics, we're making presidential campaign finance information easy to access and understand, right from Google Search. So when you search for Donald Trump or Clinton campaign finance, you'll see a snapshot of their campaigns' finance breakdown and be able to dig into interesting insights, like the percentage of funds coming from SuperPACs versus individual donations, or which industries have donated the most to a given candidate", says Jacob Schonberg and Payal Patel, Product Managers, Google.
Schonberg and Patel further explain, "We're also taking candidate search trends information and making it available directly in search. So when you search for a given candidate you can see how others have searched for them and their opponents over time".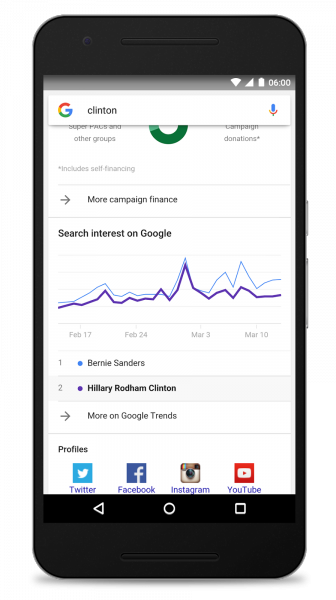 These are important tools for users, as they can provide useful decision-making information. Campaign financing in particular can show you the type of companies and special-interest groups that are funding a candidate. If you are a detractor of the groups funding a candidate, you might want to think twice about that person. With that said, candidates aren't legally beholden to their contributors.
Will you leverage Google Search in deciding on a candidate? Tell me in the comments.