AMD Ryzen 5 CPUs will disrupt the midrange next month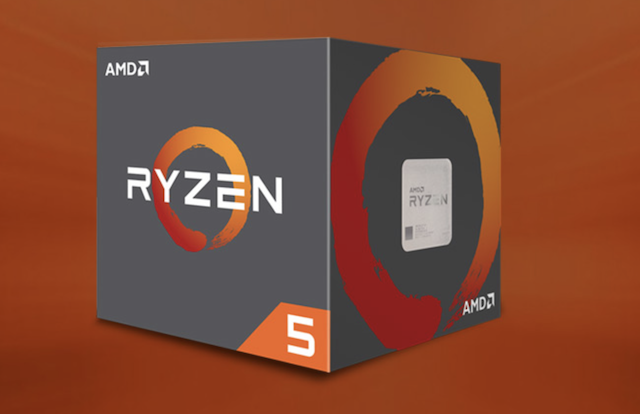 AMD has already launched its Ryzen line of processors, starting with the 7 series earlier this month. Those were its top of the line models, offering high performance at a fraction of the price of Intel's offerings. It was also the launch of AMD's AM4 platform, which saw the company utilizing DDR4 RAM for the first time. It has been quite the exciting time to be a PC builder.
While the 7 series of AMD's newest processors are quite affordable, some folks don't necessarily need the top models. In fact, some people prefer targeting the midrange as a way to save money without buying more power than they need. Well, next month, AMD will be launching the Ryzen 5 processors, and they will surely disrupt the midrange PC building market, as pricing starts at $169!
No, these are not low-quality dual-core processors -- AMD Ryzen 5 is quad-core at the lower-end of the line, and 6-core at the top. All of them, with the exception of the 1600X, come with quality Wraith coolers, meaning only overclockers should need to spend money on an aftermarket option.
ALSO READ: G.SKILL unveils Flare X and FORTIS DDR4 memory kits for AMD Ryzen AM4 gaming PCs
"Ryzen will ultimately bring innovation and competition to virtually every segment of the PC market, and Ryzen 5 is the next big step on that journey, designed to achieve new levels of compute performance for millions of PC users. AMD reinvigorated the high-performance desktop market with Ryzen 7 earlier this month, and AMD Ryzen 5 now brings the power and efficiency of the 'Zen' core to users in the highly popular sub-$300 segment of the market," says Jim Anderson, SVP and GM, Computing and Graphics Group, AMD.
Vlatko Andonov, president of Bethesda Softworks explains, "We are impressed by the technological evolution enabled by the Zen architecture, which was designed to keep pace now and well into the future as gaming, eSports and virtual reality experiences continually push the limits of devices. Working with an all-new microarchitecture, like that in the Ryzen family of processors, means that everyone has the opportunity to raise their game and bring the very best interactive experiences to players. All of us at Bethesda are excited about working with AMD to keep evolving the premium performance that Ryzen offers."
| PRODUCT LINE | MODEL | CORES | THREADS | BASE CLOCK (GHZ) | BOOST CLOCK (GHZ) | INCLUDED COOLER | TDP (WATTS) | SUGGESTED PRICE, SEP (USD) |
| --- | --- | --- | --- | --- | --- | --- | --- | --- |
| AMD RYZEN 5 | 1600X | 6 | 12 | 3.6 | 4.0 | N/A | 95 | $249 |
| AMD RYZEN 5 | 1600 | 6 | 12 | 3.2 | 3.6 | Wraith Spire | 65 | $219 |
| AMD RYZEN 5 | 1500X | 4 | 8 | 3.5 | 3.7 | Wraith Spire | 65 | $189 |
| AMD RYZEN 5 | 1400 | 4 | 8 | 3.2 | 3.4 | Wraith Stealth | 65 | $169 |
Starting at $169 on April 11, computer builders on a budget can build a really sweet PC by leveraging Ryzen 5. There are already many compatible AM4 motherboards on the market, and DDR4 memory is rather affordable. By going all in with AMD, and adding, say, an RX 480 graphics card, you can build a powerful gaming PC without breaking the bank.
Will your next PC be powered by Ryzen 5? Tell me in the comments below.