Amazon refreshes Kindle Oasis e-reader with larger screen and waterproofing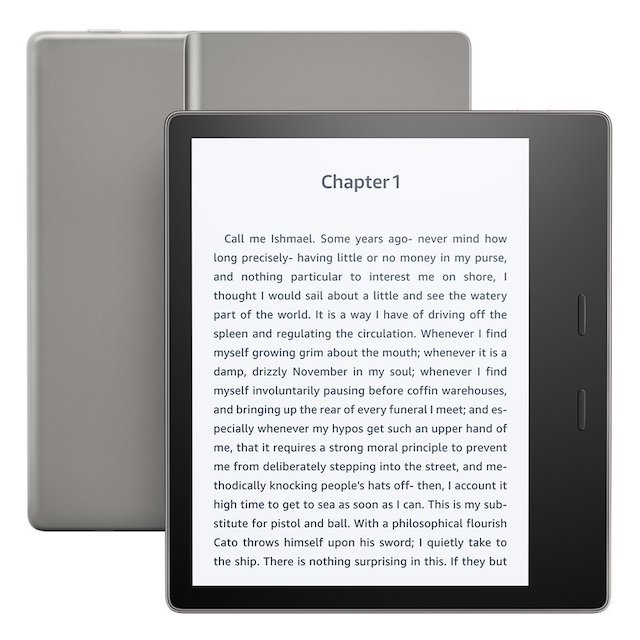 While you can read e-books on Android tablets and iPad devices, you really shouldn't. These screens can strain your eyes, causing discomfort and creating a negative experience. Not to mention, if you tend to read outdoors, the glare can be unbearable. Instead, an e-ink reader is the best option. It does a great job of simulating actual paper, which in turn, will make your peepers happy.
Not all e-ink readers are the same, however. Quite frankly, other than Amazon's Kindle devices, none are worth your time. While other companies offer decent enough hardware, nothing compares to Amazon's virtual bookstore. Today, the company unveils its latest such model, and oh my, it looks amazing. The refreshed Kindle Oasis gets a larger 7-inch screen (the previous generation is 6-inch), but arguably more important, it is the first Kindle to be waterproof (IPX8 rated)! In other words, you can use it at the beach or poolside without fear.
"With a larger 7-inch, 300 ppi display, the all-new Kindle Oasis fits over 30 per cent more words per page for fewer page turns. Plus, it has the fastest page turns of any Kindle. The crisp, laser-quality text reads like paper with uniform display lighting and no glare, even in bright sunlight. The ergonomic design shifts the center of gravity to your palm so the device rests in your hand like the spine of a book, no matter which hand you chose to read with. You can easily turn pages with dedicated page turn buttons and the display will automatically rotate the page orientation whether you hold it with your left or right hand," says Amazon.
ALSO READ: Google unveils 'Pixelbook' Chromebook, and it is much better than a Windows 10 PC
The company also says, "The device's unique shape tapers to an ultrathin 3.4 mm display featuring our strongest cover glass and a new aluminum back. The all-new Kindle Oasis is thin, light and durable -- in fact, even with a larger display, the all-new Kindle Oasis weighs only 194 grams, 10 grams less than the best-selling Kindle Paperwhite."
Amazon shares some of the significant aspects of the all-new Kindle Oasis.
New Font Size and Bold Settings: Now choose from more font sizes than ever before -- and five levels of boldness -- for whichever font you choose to read with. Combined with the new, 7-inch Paperwhite display, you can personalize your books so it's perfectly comfortable for your eyes.
New Accessibility Options: In addition to the OpenDyslexic font, we've added a feature to invert black and white on the display if you have light sensitivity. And the new enlarged display option lets you increase the size of items like the text on the home screen and library as well as the book icons to make the all-new Kindle Oasis easier to read.
Light Settings: Built-in ambient light sensors automatically adjust the display to your surroundings whether you're in a dimly-lit room or outside in the sun -- and can be fine-tuned even further based on personal preferences.
Ragged Right Alignment: You can now read using left-aligned (ragged right) text.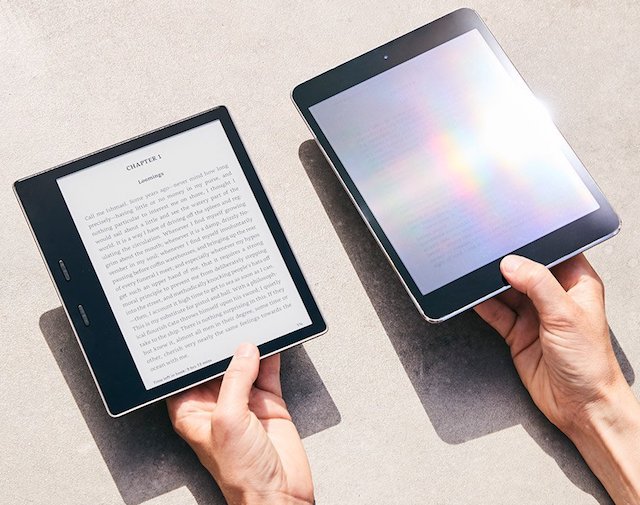 So, how much does this beauty cost? Well, pricing will vary based on options. The cost will depend on storage capacity and connectivity. You can also get a discount by selecting a "Special Offers" edition, which shows you advertisements. The pricing breaks down as listed below.
Kindle Oasis 32GB Wi-Fi with Special Offers $279
Kindle Oasis 32GB Wi-Fi $299
Kindle Oasis 32GB Wi-Fi + Free Cellular $349
Kindle Oasis 8GB Wi-Fi with Special Offers $249
Kindle Oasis 8GB Wi-Fi $269
If you tend to do a lot of reading, I would recommend splurging for the 32GB model with cellular connectivity. That connection will allow you to download books when not connected to Wi-Fi, which is super convenient. If you plan to own it for several years, you will be glad you dropped the extra $50.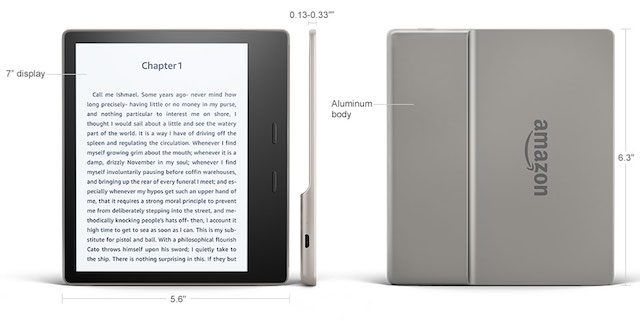 In addition to the actual device, Amazon will also be selling various covers to protect it. The waterproof fabric covers will cost $55 and come in Charcoal, Indigo, and Sandstone. There are also leather covers -- which are obviously not water-friendly -- for $70, and those come in Merlot, Midnight, and Saddle Tan.
If you want to buy one, you can pre-order immediately on Amazon here. Keep in mind, it will not ship until at least October 31.