Samsung Chromebook Plus V2 (LTE) coming soon -- a great Microsoft Surface alternative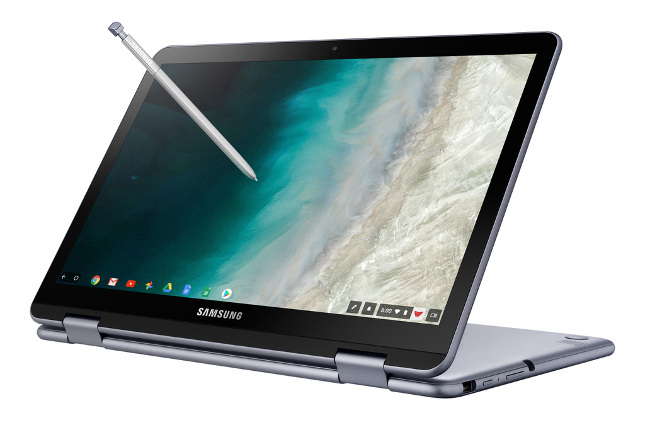 Windows 10 has been a dumpster fire lately, but thankfully, Microsoft's OS stranglehold on the consumer PC business is dramatically diminishing. These days, many consumers would be better served by purchasing a MacBook or Chromebook rather than a laptop running the less-secure Windows. True, Apple's computers are expensive, but luckily, laptops running Chrome OS can be quite affordable. Chromebooks are shockingly capable too -- especially since Android app support was added.
Just as Samsung manufactures excellent smartphones running Google's Android operating system, it also makes quality laptops running the search giant's Linux-based Chrome OS. The Samsung Chromebook Plus V2 is one of the nicer Chromebooks, and today, the company unveils a new variant. The hardware stays the same, except for one addition -- LTE compatibility. In other words, the Samsung Chromebook Plus V2 (LTE), as it is called, is fully functional without Wi-Fi -- just add a mobile data plan!
ALSO READ: Samsung unveils blazing fast NVMe-based Thunderbolt 3 Portable SSD X5
"When innovation powerhouses come together, as Samsung, Google, and Intel have many times over many years, we're able to meet consumers' needs in ways we haven't been able to before. With the Samsung Chromebook Plus V2 (LTE), we're bringing to market a premium device at an affordable price. Fittingly, it's one that will help consumers do things they weren't able to do before -- to connect their primary devices, such as Chromebooks, wherever and whenever," says Alanna Cotton, VP and GM of Computing and Wearables, Samsung Electronics America.
ALSO READ: Belkin announces two USB-C keyboards for Chrome OS tablets
Josh Newman, general manager of Mobile PC Segments, Intel Client Computing Group explains, "People demand their devices match their level of always-on performance in order to achieve, contribute and be their best. Samsung's new Chromebook Plus V2 (LTE) device meets this expectation with style by fusing Samsung design ingenuity and Google's popular OS with Intel processors and Intel LTE connectivity."
The Samsung Chromebook Plus V2 (LTE) is surprisingly affordable at just $599.99 -- a much better value than a Surface Pro or Surface Laptop. It will be available for purchase beginning next month, on November 2, 2018. It will be sold from two retailers -- Verizon and Best Buy -- plus from Samsung directly. It will be interesting to see if Verizon offers a discount in exchange for signing up for LTE data service.