Windows XP 2021 is everything Windows 10 should be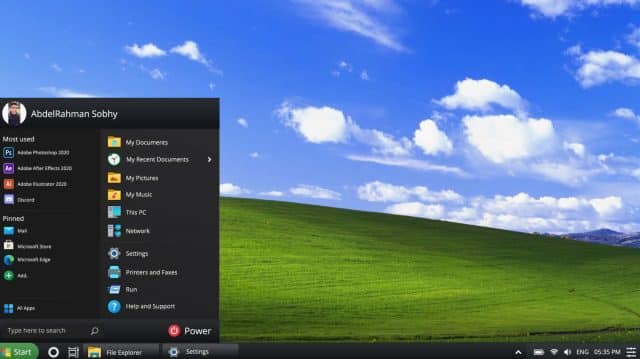 Later this year, Microsoft is expected to refresh the look of Windows 10 and native apps, introducing a number of long-overdue visual improvements, including rounded corners and new colors. For many people, the changes likely won't go far enough, but it's too early to pass judgment just yet.
When Windows XP first arrived back in 2001 it really shook things up with its revolutionary design and playful color scheme. If you were wondering how it might look if it was released today, we have the answer.
SEE ALSO:
Egyptian concept creator AbdelRahman Sobhy has put his design skills to good use, creating his vision of what Windows XP could look like for 2021.
While it still offers the same instantly recognizable design, including the large Start button, classic Start menu, and Bliss wallpaper, this concept also seamlessly introduces modern elements like Cortana, Task View, and Action Center, as well as a redesigned File Explorer -- with tabs.
As you might expect, the themes on offer include Blue, Olive Green, and Silver, and there's a Dark Mode too.
For a further dash of nostalgia, AbdelRahman Sobhy has added a mention of 3D Pinball and Rover The Dog, Microsoft's beloved search assistant.
There's also something Microsoft hasn't managed to master yet -- a consistent design!
Let me know what you think of this concept in the comments below. Do you prefer it to Windows 10?