RIP Popcorn Time -- 'Netflix of piracy' is no more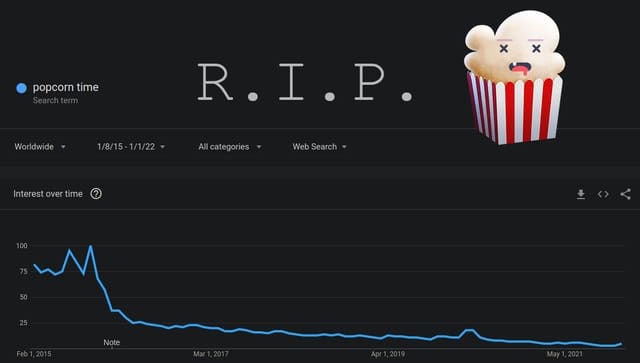 There are many names associated with piracy, some old -- think of Kazaa and Limewire -- others more current -- such as the Pirate Bay and endless sites of its ilk. One of the most recent phenomena in the world of piracy has been sites that offer movies and TV shows to stream.
One of the biggest sites of this type is Popcorn Time… or at least it was. The site dubbed the "Netflix of piracy" has passed on, it has ceased to be, it has expired and gone to meet its maker. Popcorn Time is an ex-site. It is dead.
See also:
Heading over to Popcorn Time, visitors are greeted by a large banner reading R.I.P. and the site's logo with a "dead" expression. There is also an image of a graph that shows "interest over time" waning.
It seems that the shuttering is down to diminishing numbers of users rather than legal action against the developers.
While no official announcement has been posted, the group behind the Popcorn Time app has emailed journalists to confirm that the service is indeed no longer available.