Finally, Facebook for iPad is here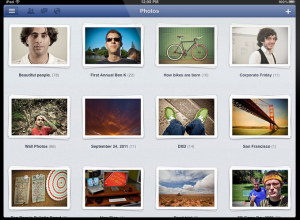 The wait is over. You heard the rumors and saw the leaked screenshots. You believe in unicorns and UFOs. But it was growing hard to keep believing in Facebook for iPad. Today, the social network rewards your faith and anoints your pad with Facebook 4.0. Surely aliens will land tomorrow and unicorns will be found in some remote jungle. If so, you can more easily tell all your friends from iPad.
Facebook 4.0 is the long-anticipated remedy for what ills iPad: FB iPhone app. The social network released Facebook 3.5 for iOS in early September and to the disbelief of many unicorn and UFO hunters (and plenty other people) without the long-anticipated iPad support.
Apple (on the iTunes store) and Facebook (on its official app page) are promoting six benefits. From iTunes:
Enjoy bigger, better photos: Your photos are high-res and easy to flip through, like a real photo album
Navigate anywhere, fast: Just tap, slide or pinch to move from one screen to another
Play games on the go: Access your favorite Facebook apps and games, wherever you are
Focus on what matters: Zoom in on your friends' photos, updates and stories
Never lose your place: Share a photo, update your status or send a message without leaving News Feed
See who's nearby: Check out the Nearby map to see what your friends are up to
Okay, Facebook for iPad is here. So why aren't you downloading it already?