Who wins if Android and iPhone lose the smartphone wars?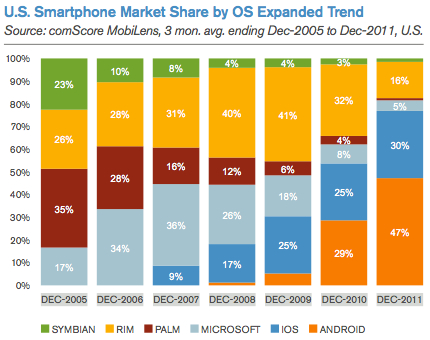 Finally, an analyst firm comes clean about the cell phone market's volatility. Gartner and IDC continue to make outrageous predictions -- like Windows Phone as No. 2 smartphone operating system in 2015 -- despite many earlier forecasts being drop-dead wrong. But comScore says pretty much anything can happen and likely will.
That's a stunning assessment, considering Androids' and iPhone's 2011 success, as highlighted in comScore's "2012 Mobile Future in Focus" report. iPhone 4 -- right, not 4S -- was the top-acquired phone in the United States and five combined Euro countries (Germany, France, Italy, Spain and United Kingdom) last year. Android led among smartphone operating systems.
comScore observes and asserts about the US handset market:
If it looks like Android and Apple are positioned to lock up the smartphone market, one would be well-advised to recall the history of this market and how quickly leadership positions can change. If we travel back in time to 2005, Palm was the smartphone market leader at 35 percent, followed by [Research in Motion] and Symbian, each with more than 20 percent of the US market.

By 2006, Microsoft had grabbed the lead, only to be overtaken by RIM in 2008, which would emerge as a strong leader for the next few years. In 2011, Android vaulted into the lead while Apple solidified a strong #2 position.

While the lead has switched hands numerous times over the course of the entire history of the US smartphone market, Apple has never claimed that mantle.
The situation in Europe is more volatile. Android snatched the smartphone OS share lead from Symbian -- 31.2 percent to 29.9 percent -- last year. Android was just 12 percent at end of 2010. Meanwhile, RIM's US share loss wasn't mirrored in Europe, where there were actual gains -- to 9.4 percent. The Windows Phone transition looms large on the Continent. "If Nokia can maintain a similar market share in the OEM market, then Microsoft will establish itself as a very strong third platform in Europe to contend against the likes of iOS and Android", according to comScore's report.
However, for all the potential volatility, the market is larger and more consolidated now than even 12 months ago and certainly more so than 2009, when RIM's US smartphone market share, as measured by operating system, was 41 percent and Android's was just a few percent.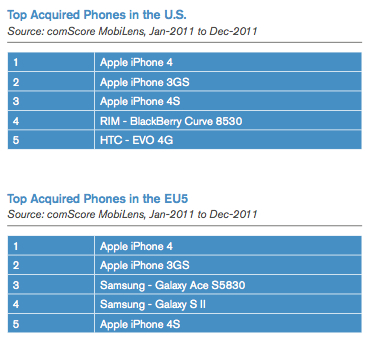 Because:
In North America and the Euro 5 countries, smartphones now outsell feature phones.
Smartphone ownership in United Kingdom and Spain now is more than half of all handsets, and it's expected to pass this threshold in the other countries this year -- 100 million in the United States.
Success of Apple's App Store and Google's Android Market create platform lock-in, as people buy more mobile applications. As investment increases, likelihood of switching decreases.
Similarly, investment in cases and peripherals also decreases likelihood that users will so easily change platforms. This mattered with BlackBerry and Windows Mobile handsets in the past, but there was also smaller number of smartphone owners.
Other mitigating factors suggest a market ready to reach some kind of crescendo in 2012 and for changes among market leaders:
1. RIM has a new CEO and renewed focus that could slow market share losses in the United States and spur continued growth in international markets. According to comScore, 43 percent of BlackBerry customers buying a new smartphone last year stayed with the platform. There are many loyal RIM customers yet.
2. Android laps up lost BlackBerry customers. "Of RIM users who purchased a new smartphone in 2011, 31 percent purchased Android phones", according to comScore.
3. iPhone 4S has renewed Apple's platform in a big way. Partial fourth-quarter sales were so strong, iPhone 4S ranked as the third most acquired phone in the United States and fifth in the five Euro countries, based on comScore data.
4. Nokia's flagship Windows Phone, the Lumia 900, launches in the United States next month, backed by big-dollar marketing campaign. Meanwhile, Microsoft prepares to launch Windows 8, which when available will have strong visual connection to Windows Phone 7.5.
5. Google's Motorola acquisition troubles some Android partners, with major OEM partner Samsung increasing homegrown Bada's importance.
6. ZTE is gaining huge success in its home country China and has started shipping compelling Android smartphones to other markets.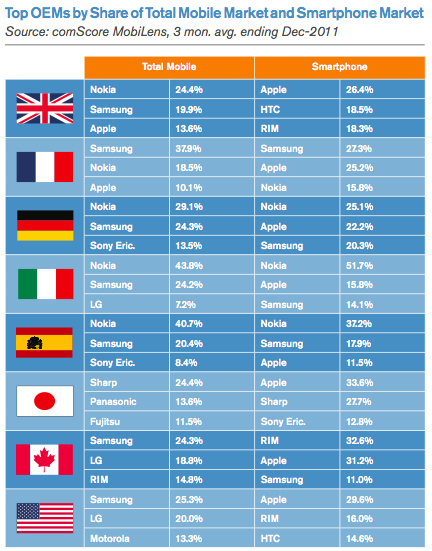 Finally, there is the larger mobile OS context, such as tables, which I'll try to get to this weekend. I'm still down with the flu, or you would be reading that analysis already. The point: There are yet no assured winners in the smartphone wars, despite current Android handset and iPhone leadership.