CyanogenMod 10 now comes with in-house updater. Say goodbye to ROM Manager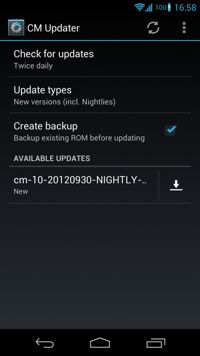 Great news for CyanogenMod 10 nightly users as the popular Android custom distribution now comes with a new feature named CM Updater. It brings OTA updates, and is designed to make upgrading a breeze between nightly builds, replacing ROM Manager in the process.
CM Updater has been recently implemented, and is available in the latest nightly builds for CyanogenMod 10-supported devices. Just like with stock Android 4.1 Jelly Bean the OTA update feature is located in "About phone" for a more vanilla-like experience, and delivers a number of useful features.
It comes with a scheduler that can automatically check for updates, selecting which updates to install (nightly, stable or both) and in typical nightly fashion, it can also create backups. I guess I will not need CM10 Downloader to check for and download CyanogenMod 10 nightly builds any more...