Android manufacturers should embrace modding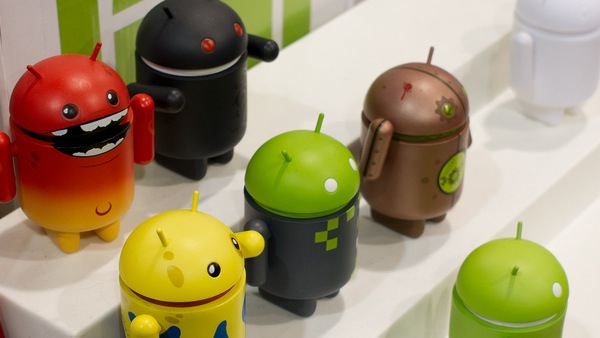 Android modding is often perceived as a rare disease that must be treated at all costs with tightly locked bootloaders and impossible to root devices. When users do want to remove the shackles imposed by manufacturers, and carriers alike, there's always a sense that someone will suddenly knock on the door and say: "Stop, we'll void your warranty. Your device must run unadulterated software!" That's just limited thinking. Modding is beneficial and not just for those roaming around in obscure corners of the interwebs.
Some argue that modding is just that insignificant other that is over-hyped per the overall scheme of things. When enthusiasts ask for unlocked bootloaders or maybe easier to root devices, those very same people will shorty argue with "Most people don't need that, so your wish doesn't matter!" Obviously there's some "truth" to that, because in most cases the deniers don't bother to read thousands of forum posts or even to check custom Android distribution statistics. Yes, there are such things.
Show me the Numbers
Fact is it's difficult to grasp which custom distribution is the most popular. Most developers behind the scenes do not release any numbers on a regular basis for comparison purposes. However, it can be accepted as general consensus among enthusiasts that CyanogenMod is one of the most popular today. AOKP, or Android Open Kang Project, is also significant, but not quite there just yet. However there are some numbers provided by the latter that also help tell the story.
At the time of writing this article CyanogenMod installs surpass the 3,128,000 figure, an aggregate of both official distributions as well as unofficial (or based-on CM) ones. On the AOKP side the figure is lower, coming in at more than 180,000 official installs and in excess of 430,000 for unofficial types. Summing the two up combined, users say "No!" to what runs out-of-the-box more than 3,700,000 times. In reality the number is even higher, with other projects such as MIUI upping the ante to above 4,000,000, and there are more.
But what are those outcasts looking for? From a personal point of view there are two main areas that represent the essence of Android modding today and the reason why device manufacturers really need to back down and let the reigns loose.
Clunkers get a New Lease on Life
Manufacturers have a dream and that dream involves prospective buyers always queuing for the latest and greatest new product on the market. In some cases that's not an illusion, but not everyone wants or can afford to exchange a year-old device (or even older) with the successor. Among those there are enthusiasts that simply look for a software upgrade when the manufacturer cannot or does not want to deliver one. Let's add more numbers into the equation.
In the CyanogenMod stats lie quite a few handsets that are forgotten by the passing of time. The highest number of installs comes from the Samsung Galaxy S, released in the first part of 2010 and left to rot on Android 2.3 Gingerbread. However, the two-and-a-half year-old smartphone can run the first Jelly Bean iteration, through CyanogenMod 10. And it works nicely based on personal experience.
LG Optimus 2x, HTC Desire, Samsung Galaxy Ace and a bunch of other devices share a similar fate, with users looking towards modding to make up for the lack of software upgrades. And I'm yet again barely scratching the surface, with custom distributions adapted to work on a higher number of devices that are now left behind by manufacturers.
Modders don't Forgive and Forget
Manufacturers (and carriers) that put a lid on bootloaders and rooting are often doomed with a bad reputation among the modding community. Nowadays, the interwebs is a voice to be heard. "Support My Moto" is a good example of poor manufacturer support -- Motorola simply keeps bootloaders locked and does not want to play the open card. Instead, the company offers very  expensive devices without software limitations to divert from its modding shortcomings. And enthusiasts label Google's subsidiary with a bad reputation.
LG is not that different either. The South Korean corporation is incapable of attracting a modding crowd thanks to tightly locked bootloaders. The company's latest flagships, the Optimus 4x HD and the Optimus G are among the least popular devices within the enthusiast community. If a solution is not found in due time, users of either of the two smartphones will regret their choice down the road when, for instance, Android 5.0 cannot be installed. LG is also not known for timely updates. Who will pay the price? LG.
There are exceptions to the rule, however. Samsung is fairly open when it comes to unlocking the bootloader on international devices, and Sony might just be the most open of all Android manufacturers. The Japanese corporation goes out of its way to support and embrace the modding community through dedicated tools. HTC also provides users with code to unlock the bootloader on the company's Android devices.
Vanilla is Refreshing
While it's easy to dismiss manufacturer skins (or users interfaces), some useful functionality is introduced like notification toggles, battery indicator or improved camera interface. But at the same time that's usually associated with a cartoonish-looking UI that simply lacks elegance or is too bloated from all the extra customization.
Among those supported devices there are new ones like the ASUS Transformer Pad Infinity, HTC One S and One X, Samsung Galaxy S III and Galaxy Note II or Sony Xperia S that run the unadulterated version of Android. Any of the above mentioned devices ships with a manufacturer skin on top and any of them is a proper flagship smartphone or tablet in its own right.
Linux creator Linus Torvalds doesn't think much of manufacturers' skins. Torvalds runs CyanogenMod on his personal Samsung Galaxy S III. Why? Because the stock Jelly Bean delivers a sought after breath of fresh air through the simple and yet elegant user interface.
Not everyone is Linus Torvalds though. But there are plenty of enthusiasts looking for something different, and custom distributions offer just that. When manufacturers make it easy, the devices are quite popular among the modding community. When they don't... just browse the Motorola or LG forums for Android Development over at XDA.
Personally, even though I own a Google/Samsung Galaxy Nexus, I actually prefer a customized vanilla-based distribution over the stock Android 4.2 Jelly Bean. It offers many more features, as I highlighted in the CyanogenMod 10 and AOKP Jelly Bean Milestone 1 reviews. The very same philosophy still holds true for newer as well as older Nexus-branded devices, which are highly supported and appreciated by the modding community.
This Year's Flagship is Next Year's Low-end Device
Some of those older devices were flagships at launch, but today they are part of the run-of-the-mill flock. Back in the day an unlockable bootloader did not mean all that much. But move forward into the present and it's a requirement to run the latest version of Android. Manufacturers that keep an open mind are often rewarded.
Why? Support cannot be offered many years into a product's life-cycle because it is not a sustainable financial model. Companies move forward with new devices, but the old ones can still be maintained by the community. Users that have older smartphones or tablets can still run Android 4.1 Jelly Bean, for instance, and when the time comes it's not out of the ordinary to assume that a similarly open product with an unlockable bootloader will be sought after by prospective buyers.
The Spirit of Android
While most people do not bother to install third party operating systems, there are also enthusiasts that are not easily satisfied and want more. The very same people, that manufacturers often disregard, will rush to buy the next best thing coming so they can install what they like and then go to great lengths to provide support to fellow green droid users in need. Some of those will even develop software for obscure devices, or for the most popular ones on the market, and share their work with the community for free.
That is the power of Android and its main pride and joy, not some boardroom-created walled garden. Take that away and enthusiasts are left with just a bitter taste from the good old times.
Photo Credit: Joe Wilcox