500px foreshadows Chromebook Pixel's future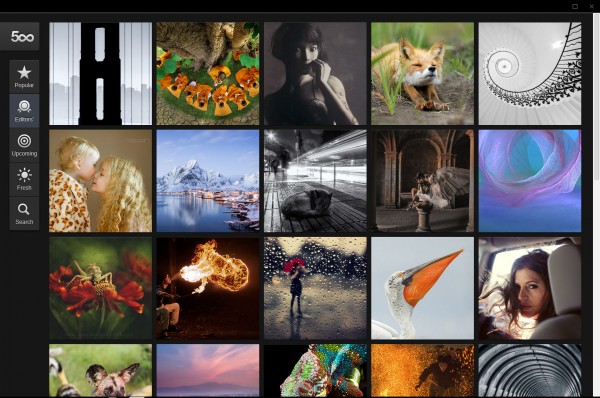 Today, 500px launched a new Chrome web app that, while available for browsers running on OS X or Windows, brings something extra to Chrome OS: Touch natively-supported and optimized for Chromebook Pixel. Take a look, because this little ditty is the computer's future and hints at what Google means by the "For what's next" marketing tagline.
Chromebook Pixel is Google's pricey -- $1,299 or $1,449 laptop running Chrome OS. Pixel's naysayers -- and, whoa, there are many -- gripe about a high-priced browser PC that is useless offline and for which there are no real programs. But that's not so. Developers can, as Google has done, create "packaged" web apps that can run when disconnected from the Internet. The 500px Chrome app is one of them. Then there is the functionality fine-tuned to Chrome Pixel's magnificent 2560 x 1700 resolution touchscreen. If you can understand 500px, you might grok Google's plans for making the Chrome OS flagship truly competitive with Mac notebooks.
I'm wrapping up the first part of my Chromebook Pixel review, and to get this far something needed to be desperately answered: Who is the laptop for? Is it worth spending as much as 1,500 bucks? I got hung up on usage scenarios, which are vastly different from this computer as primary than Mac or Windows portables. I repeatedly came back to the question: Why does Chromebook Pixel have a high-resolution touchscreen? Because you really don't need either the pixel density or touch to view the web or consume web apps.
The answer, or hint of it, is in Google's "For what's next" marketing tagline, which if taken literally means there is more to come. Surely that something is to take advantage of the high-resolution touch screen. Yesterday, François Beaufort, who revealed Chromebook Pixel's existence before the public announcement, leaked yet something else: Google+ Photo. Google+ already is a popular photographer hangout.
Photos
Today, along comes 500px, which worked closely with Google developing the web app. "Chromebook Pixel is an amazing device, it's very easy for developers to create an outstanding user experience", Oleg Gutsol, 500px founder and CEO, says. "Working with Chrome OS and the Google team behind it was a real pleasure and we hope that our users like the end result. 500px for Chrome brings our photographers yet another high quality way to showcase their work".
Something else to think about, and this points to Chromebok Pixel as a photographer's tool -- the 3:2 aspect ratio. While better for the web than 16:9, there's more: "Most camera sensors are 3:2 ratio", Scott Stephens comments to one of my Google+ posts. "When I look at photos from my DSLR on my Pixel, it's very satisfying to have no cropping whatsoever".
For those people complaining there's no Photoshop for Chromebook, well, hell, there might be something as good or better coming from Google or another partner.
"Remember, Google bought Nik Software, who has created wonderful plug-ins for Photoshop and Lightroom", Kevin Gault comments to the same G+ post. "So the question here could be what does Google have planned using their knowledge of photography for a killer app for the Pixel at I/O. One can wonder and it really makes the Pixel more enticing. Even with that thought in mind and depending on reviews, I could pick up a Pixel with the promise of a brighter future of viable professional quality apps".
Because Chromebook Pixel is "For what's next".
Video
If photography, why not video? Today Vimeo, added 500+ filters for changing how videos look. The enhancement is yet another proof point about how much can be done in the cloud. Google owns YouTube, which already offers some online editing capabilities. By supporting Chromebook Pixel, a video editor could put touch and resolution to work.
Once you cover photos and videos, two of the major reasons many people choose Macs, Pixel starts to look lots more exciting -- and primed for the kind of professionals willing to pay $1,299 or $1,449 for a laptop.
Consider something else: Chromebook Pixel comes with 1TB Google Drive storage for 3 years. Critics call the offer nothing more than a Pixel price-justifying maneuver that costs Google nothing. But what if "For what's next" is all about giving Chromebook Pixel owners storage they will use -- for creating digital content, such as photos and videos?
Think about it.
Then there is the name, Chromebook Pixel, which connotations are bigger than the screen. Again think photos and videos. How many of you measure megapixels before buying that shooter?
Circling back, the 500px web app delights the senses -- well, touch and sight, anyway -- and I can't help but want to lick the screen.