LG Optimus G Pro comes to AT&T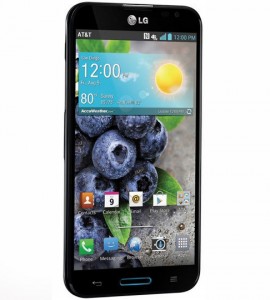 US mobile operator AT&T has officially announced that starting tomorrow, May 3, the Optimus G Pro is available for pre-order from its online store. The smartphone, which was unveiled in mid-February, will go on sale a week after, from May 10, exclusively from AT&T.
The price of the Optimus G Pro falls in line with that of its fierce competition. On a two-year contract LG's Android smartphone flagship runs for $199.99, on par with Apple's iPhone 5, BlackBerry's Z10, HTC's One and Samsung's Galaxy S4. By contrast, the similarly-sized Galaxy Note II is available for $299.99 on a two-year contract.
Customers can also bring down the price of the Optimus G Pro to $99.99, alongside the same contract length, by trading-in a "recent model smartphone" to the US mobile operator. The device must be "no more than three years old and in good, working condition".
Some of the highlights of the Optimus G Pro include: 5.5-inch IPS display with a resolution of 1080 by 1920 and a 440 ppi (pixels per inch) density; 1.7 GHz quad-core Qualcomm Snapdragon 600 processor; 2 GB of RAM; 3,140 mAh battery; 32 GB of internal storage; microSD card slot; 13 MP back-facing camera with dual recording and support for 1080p video recording; 2.1 MP front shooter with dual recording and 1080p video recording support; Android 4.1.2 Jelly Bean.