Lenovo IdeaPad Yoga 11S -- Windows 8 done right [Review]

My relationship with Windows 8 is very tumultuous; sometimes I love it and sometimes I hate it. However, this is due to the inherent problem with Windows 8 -- depending on what you are doing with it or what hardware you are using it on, the experience is different. I have used Windows 8 devices that are wonderful and others that are horrible. I often ponder, what if there was a device that could change based on what I was doing? I am happy to say, such a device exists and its called the Lenovo IdeaPad Yoga 11S.
The name "Yoga" is very appropriate as the convertible laptop offers multiple positions. No, I am not talking about the downward-facing dog -- this device can be a laptop, tablet and desktop. Lenovo calls these modes "Laptop", "Tablet", "Tent" and "Stand". However, "Tent" and "Stand", in my opinion, have duplicate functionality -- I refer to both of these as "Desktop Mode".
Multiple Positions
As a laptop, the device works as you would expect from Lenovo -- wonderfully. The chiclet-keyboard is outstanding; it offers a very pleasing typing experience. Even though this is an 11-inch device, the keyboard is not cramped. In fact, it feels very roomy and I was able to type as fast on it as any other keyboard. I especially appreciate the rubberized texture around the keyboard, it is very comforting on my wrists and has a premium feel.
While the keyboard is a dream, the touchpad is average at best. On more than one occasion, the two-finger scrolling was erratic and did not work -- it would register as a single finger and move the mouse pointer instead. It didn't happen often but it happened enough to notice. Again, it is not a bad trackpad, it's functional, but it does not seem to be on par with the premium nature of the rest of the package.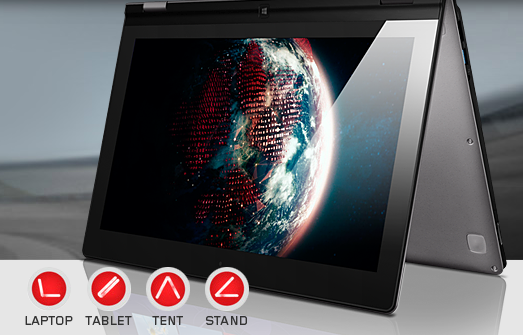 Where Windows 8 really shines is on a tablet. On the Yoga 11S, by folding the screen all the way back so the keyboard is facing outwardly, tablet-mode is enabled. I know what you are thinking, and yes -- your fingers will hit the keys. However, the designers at Lenovo intelligently set the keyboard to disable in tablet mode. It feels a little weird at first but you quickly get used to it.
Lenovo does include a keyboard slip-cover if you so choose to use it. It is basically a pouch that slips over the keyboard-half of the device. It's a nice touch, but I consider it just one more thing to carry and lose.
Surprisingly, I found the desktop-mode to be my favorite of the bunch. Whether in "Tent" or "Stand" mode, the laptop acted as a touch-screen monitor with the keyboard hid behind it. When coupled with the wonderful Logitech TK820, I could comfortably recline at a desk. If you feel an 11-inch screen is too small, you can easily connect a larger monitor using the full-size HDMI port -- awesome!
As I stated earlier, "Tent" and "Stand" modes basically do the same thing; just in different ways. They present the display in such a way as to hide the keyboard. This allows the user to focus and become immersed in the screen. "Tent" is basically positioning and placing the laptop in an upside-down letter "V", whereas "Stand" puts the keyboard face-down on a surface.
Which you decide to use comes down to preference. I would probably lean towards "Tent", since the idea of putting a keyboard face-down on a surface just bothers me. The laptop is designed for this; there will be no pressure on the keys. However, from a germ-perspective, it is probably less sanitary.
Performance and Specs
Processor -- 3rd Generation Intel Core i5-3339Y Processor (1.50GHz 1600MHz 3MB)
Operating System -- Windows 8, 64-bit
Display -- 11.6" HD LED Multitouch 1366x768
Graphics -- Intel HD Graphics 4000
Memory -- 8.0GB PC3-12800 DDR3 SDRAM 1600 MHz
Hard Drive -- 256GB SSD
Network Card -- Lenovo BGN Wireless 2.4GHZ
Bluetooth -- Version 4.0
Battery -- 4 Cell Lithium-Ion
Ports -- USB 3.0 x 1, USB 2.0 x 1, SD card reader, Headphone, Microphone, HDMI-out
Yes, you read that right; 3rd-generation Intel Core i5 -- Ivy Bridge instead of Haswell. While the 4th-generation Core i5 would be preferable, it should not be a deterrent for consumers. Ivy Bridge is still a very fast and capable chipset. At no point in my testing was the Yoga 11S sluggish or laggy. In fact, I would call it very fast and impressive.
Haswell would have helped battery life but again, Ivy Bridge is no slouch. I can easily squeeze a full-day's use out of the Yoga 11S.
While the display is not 1080p, it is absolutely gorgeous. Text is crisp and clear while videos and pictures are bright and realistic.
Sadly, the wireless card does not seem to be dual-band. I recently purchased a sixth-generation Apple Airport Extreme with both bands enabled. While my Nexus 7 (2013) sees the 5GHz band, the Yoga 11S does not. This is very disappointing but not a deal-breaker. After all, what is the point of simultaneous dual-band if you put every device on the same band?
Linux
While Windows 8 and the Yoga 11S are a match made in heaven, the Lenovo laptop and Linux are like water and oil. I tried to install Ubuntu and Fedora via flash drive but was unsuccessful. I spent an hour fiddling with the BIOS and secure-boot (why Microsoft? Why?) but ultimately gave up. This is probably for the best anyway as Linux distributions are not yet fully-optimized for touch; sorry Canonical, Unity will get there eventually.
Conclusion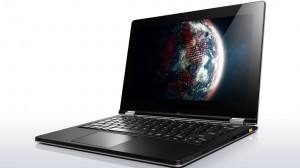 Overall, this is the greatest Windows 8 laptop I've had the pleasure of using. It gives me the best of all worlds. I decide the position in which I want the laptop -- I am the boss of my computing. Whether I want to type a paper at my kitchen table, relax on my couch with a tablet or sit at a desk with a monitor, the Yoga 11S has my back.
Microsoft chose this particular laptop to compete against the iPad in a recent advertisement. While they are two very different devices, I think Microsoft is on to something. iPads cause a student to compromise, the Yoga 11S doesn't -- it is the perfect back-to-school laptop and much cheaper than buying a Macbook and an iPad.
I highly recommended this device.