Securely delete confidential files with BitKiller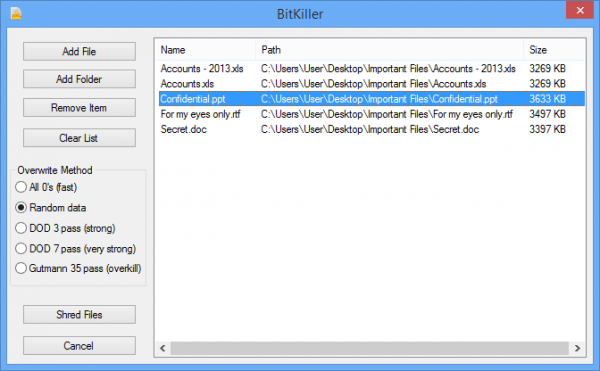 If you ever work with personal or confidential documents then you've probably considered using a shredder, a tool which overwrites your files so they can't be recovered by others. And there are plenty around: searching for "secure delete" returns lots of capable programs in just the first few hits.
Which file shredder is best for you, though? Most recommendations focus largely on the length of their feature list, but if you're just looking for something simple, a convenient way to get the job done with the minimum of hassle, then BitKiller could be more interesting.
The program's advantages start right away, with its tiny download. There's no space for adware, not even an installer -- just a portable 40KB executable, ready to be launched right away.
Bitkiller's interface is ultra-simple, too. There are no fancy graphics, no toolbars, no menus. No hidden options to explore. Everything you need is accessible from just a few buttons.
This doesn't mean the program is totally lacking in features, of course. You can drag and drop files or folders onto it; there's support for five overwrite methods (zeros, random data, DOD 3 pass, DOD 7 pass, Gutmann 35 pass); and the underlying deletion steps work well (files are renamed before wiping to reduce the chance of information disclosure, for example).
BitKiller is open source, too, another plus point if you know what you're doing (you can check the source code to confirm it's working as it should).
There are ways the program could be improved further. The "Add" button only allows you to add one file or folder to the list at a time; this isn't a big deal as you can just drag and drop whatever you need, but we'd still prefer a multi-select option. And the ability to wipe free space would also be very welcome. But if you just need the core file shredding basics then BitKiller will be a simple, straightforward and very effective way to get the job done.