Apple withholds smartwatch sales data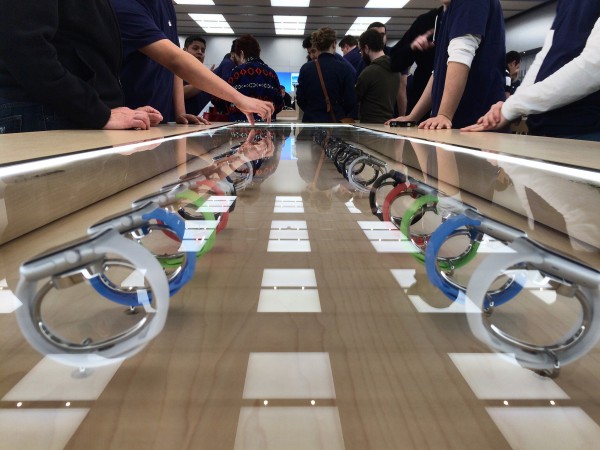 All eyes turned to Apple this afternoon as the world's most profitable tech company announced the first full quarterly results that include its smartwatch. You could hear a collective pin drop across the Internet as U.S. stock markets closed and everyone waited wondering: Flop or Not?
We don't know. In the press release, CEO Tim Cook refers to the "great start for Apple Watch", but there's no data in the PR or in the 8-K filing with the SEC. The device fits into the "Other" category. During Cook's earnings conference call opening remarks hard data also is lacking.
Feedback from Apple Watch customers is very positive, Cook tells financial analysts today. Ninety-four percent wear their timepieces regularly, if not every day, he asserts. The potential for Apple Watch is "enormous", and he calls launching the product a "privilege", praising its use for cancer research, and touting the promise of Apple Pay and Siri.
Responding to an analyst asking for clarification that might quell investors' concerns following a series of recent speculative news stories about weak sales, the CEO reiterates: "We made a decision not to disclose shipments on the watch".
Cook roundabout refers to "Other", saying it would be unreasonable to assume that all the growth came from Apple Watch. The category generated $2.64 billion in revenue, up 49 percent annually and 56 percent sequentially in fiscal Q3. During the previous quarter, "Other" generated $1.7 billion, down 10 percent year over year and 37 percent month on month.
"Sales of the watch did exceed our expectations", and sell-through exceeded launch of the original iPhone and iPad, Cook says. "We feel really great about what we did". He emphasizes that sales are not Apple's primary objective but positioning the platform, particularly for later in 2015. "We're convinced the watch is going to be one of the top gifts for the holidays".
In response to another analyst question: "June sales were the highest" compared to April and May, Cook emphasizes. Such trend suggests accelerating demand as supplies strengthen and sales channels expand.
Answers from Elsewhere
Nevertheless lack of quantifiable data is disconcerting. Apple Watch is the first truly new category device to arrive during Cook's tenure. The gadget's measure of failure, or success, reflects upon his ability to lead Apple, as an innovation disruptor, during the post-Steve Jobs era. In business, perception is everything. How investors perceive Cook and Apple's future matters, particularly with more than two-thirds of revenues coming from iPhone, which sells into a rapidly saturating market.
The company's previously-stated excuse, withholding smartwatch sales data to keep others from gaining competitive intelligence, applies. But it could be used for any Apple product. So why not one "Other" category for all? But the approach makes sense if the company is concerned about how Apple Watch sales numbers might be perceived. Some critics will say Apple hides a weak launch, but, if you accept Cook's statement about positioning the platform, withholding numbers makes sense another way: Allow the company to build out the platform without distracting criticism. There is great difference between outside interference in the absence of data versus that which is the record. Which will be fiercely debated in the days ahead by analysts, bloggers, investors, and journalists.
Ahead of the earning's announcement, Canalys released its estimate: 4.2 million shipped, which aligned with Wall Street analyst consensus.
The road to ruin, or success, depending on how you interpret the lack of sales data, is a long one. Apple announced the smartwatch in early September 2014, preorders opened April 10, 2015, and sales started two weeks later.
Between the unveiling and the selling, much punditry filled in the gaps. For example, some of ours:
In the absence of hard data, expect lots of speculation about sales, particularly as smartwatch competition increases.
Of note, and it may not be related to Apple Watch: The company's shares are down about 7 percent in after-hours trading as I complete this news analysis' final update around 6:25 p.m. EDT.
Photo Credit: Shinya Suzuki