MINISFORUM EliteMini BOX X400 is powered by an AMD Ryzen 5 PRO 4650G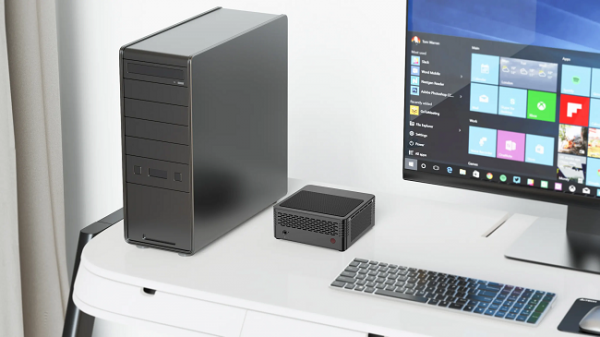 If you love mini desktop computers like I do, you absolutely must check out MINISFORUM. This company produces unique NUC-like computers with beautiful designs and respectable performance. They can run both Windows 10 and Linux wonderfully. We recently tested out the Intel-powered Minisforum EliteMini H31G and came away very impressed.
As an AMD fan, however, I am extremely excited about what MINISFORUM has planned next. Called "EliteMini BOX X400," the 1.35 liter PC can accommodate 2000, 3000, and 4000 series AMD Ryzen APUs, with the top option being the Ryzen 5 PRO 4650G processor. If you aren't familiar, an APU is a CPU and GPU on a single chip, so you can expect respectable graphics performance too.
The EliteMini BOX X400 can handle up to 64GB of memory, and depending on the chip you select, it can run the RAM at speeds ranging from 2400MHz to 3200MHz. There are three onboard storage options, all of which can be populated and used simultaneously -- M.2 2280 (PCIe 3.0 4x), M.2 2242 (SATA 3), and 2.5-inch SATA SSD or HDD.
The ports are quite nice and plentiful, but there is no USB-C, sadly. What you do get, however, are four USB-A ports, dual Gigabit Ethernet, HDMI, DisplayPort, a microSD card reader, and several 3.5mm audio jacks. For connectivity, it has Wi-Fi 6 and Bluetooth 5.1.
Pricing and availability are not totally known yet, sadly. However, what we do know is that MINISFORUM will offer at least two variants of the EliteMini BOX X400 next month (November 2020). One will be powered by the aforementioned Ryzen 5 PRO 4650G, while the other will have the lesser Ryzen 5 PRO 3400GE.
If you want to check out MINISFORUM and all of its current offerings, you can do so here.