Image to PDF Creator Free lets you quickly build PDFs from your pictures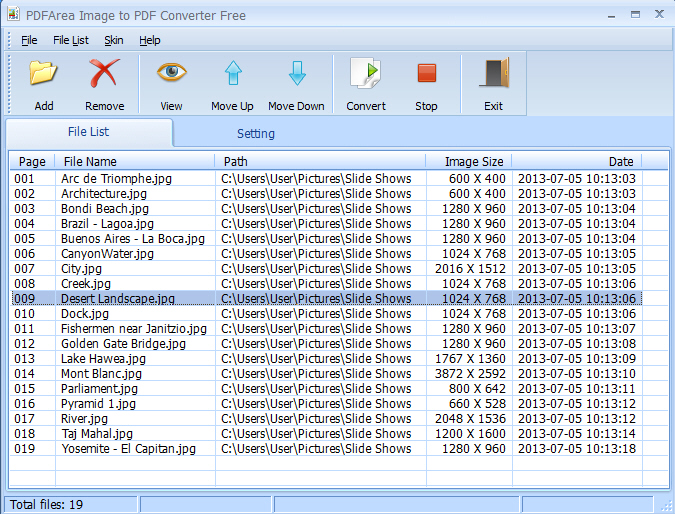 There are many ways to share a group of pictures with others. A zipped email attachment, say. An online album. You could share a folder on Dropbox, maybe, and that's just the start.
For a really simple solution, though, why not just present them in a PDF file? You'll get control over image order; you can add metadata to tell people more about the pictures ("Title", "Subject", "Author"), and the finished document will be viewable on just about every device and platform around. It's extremely easy, too -- all you need is a copy of Image to PDF Creator Free.
The program launches with a simple and straightforward interface, which makes it extremely obvious how to proceed. And the first step is clearly to click "Add" and select the pictures you'd like to share (support for more than 30 graphics formats means you're unlikely to have any import problems).
If the image order matters then you can rearrange them by clicking something, and moving it up or down the list.
A Settings dialog allows you to define your PDF size and metadata tags.
And when you're happy, clicking Convert will have the final PDF file created in seconds.
There's nothing complicated here, at all. No slideshow effects, no transitions or soundtrack. You can't include a title page (unless you create one as an image and add it manually, anyway), or add captions to your pictures.
Image to PDF Creator Free does do exactly what its name suggests, though, quickly and without hassle, and that's good enough for us. If you need a simple way to present small groups of images then it's well worth a try.