Facebook to force users to Messenger app by disabling chatting on its mobile site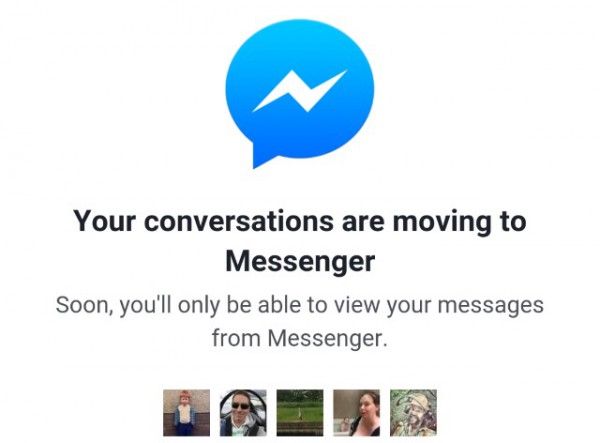 If you access Facebook on your phone, the chances are that you use the dedicated Facebook app -- but this is not necessarily the case. A lot of people prefer to make use of the mobile Facebook website, and the social network is making an aggressive change to the way messaging works that will force the use of the Messenger app.
Head to the messaging section of the mobile site today, and you'll be greeted by a large pre-emptive warning that reads: "Your conversations are moving to Messenger. Soon, you'll only be able to view your messages from Messenger". For now, you can continue to send messages through Facebook's mobile site, but this will end at some unknown date in the future. It's an aggressive tactic reminiscent of Microsoft's forcing of Windows 10 onto users.
Facebook has been adding features to Messenger in recent months, including group chats and Dropbox support. On the horizon are self-destructing messages, Snapchat style, and while it's true that the dedicated app is more feature-rich that the mobile website version, the fact remains that a large number of people have chosen to ignore it -- or have no option. While some users opt to ignore the Facebook Messenger apps out of personal preference, it is also the case that the app will not run on many older phones.
Facebook's argument is that the Messenger apps gives users the 'best experience'. The presence of stickers, video chat and other extras are great if you like such things. But it's also a slower, clunkier experience, particularly on older handsets. At the moment, users have the choice. It won't be long, however, before Facebook removes that choice and says 'it's Messenger or nothing from this point forward'.
It's not going to go down well...