GoDaddy is down!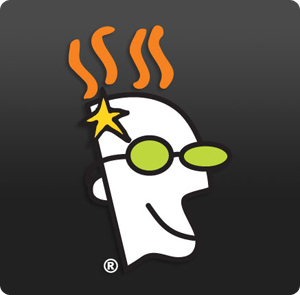 As I write, domain registrar and web hoster GoDaddy is inaccessible -- and a heap load of websites with it. Typically when sites go dark like this, they are under a direct denial of service attack. Anonymous claims responsibility, via Twitter, but there is yet no official word from GoDaddy as to the cause and whether there might be a security breach.
About 90 minutes ago, GoDaddy tweeted: "Status Alert: Hey, all. We're aware of the trouble people are having with our site. We're working on it". Then 5 minutes ago: "So many messages, can't get to you all... Sorry to hear all your frustration. We're working feverishly to resolve as soon as possible". Well, I guess that confirms Twitter isn't hosted by GoDaddy.
Tweets from several accounts presumably associated with hacktivist group Anonymous claim responsibility for bringing down GoDaddy. Interestingly, the one I most directly associated with Anonymous, YourAnonNews, doesn't explicitly. Two tweets: "#GoDaddy Outage Takes Down Millions Of Sites, Anonymous Claims Responsibility" referring to a TechCrunch story; "As #GoDaddy 's DNS servers are Tango Down'd #Anonymous trends world wide.. Interesting turn of events eh?"
Meanwhile, Anonymous Operations tweets claims and gives some reasons: "All servers are Tango Down - http://www.godaddy.com | #Anonymous #AntiSec"; "By using / supporting Godaddy, you are supporting censorship of the Internet". "Please redirect your godaddy hate to @AnonymousOwn3r He is the 'leader' of Anonymous and a faggot. #derp Have #lulz with that".
Anonymous Own3r was among the first to acknowledge the attack, tweeting: "#tangodown http://www.godaddy.com/"; and immediately after: "Hello everyone who wanna me to put 99% of the global Internet in #tangodown?"
GoDaddy is the No. 2 trending topic on Google+ as I update (3:47 pm EDT). Posting to G+, web developer Joel Klein aptly describes what this means for GoDaddy customers:
1) if you have a website hosted by them -- it's down
2) if you have an email address by them -- it's down
3) if you have a ftp storage by them -- it's down
4) if you want to change a domains information -- you can't
5) if you have a domain at Google apps, or goDaddy, or DomainsByProxy -- it will be affected (When TTL runs out)
6) if you will call go daddy or visit them on the web -- you will get nowhere
Klein sums up the situation better than I could. The number of affected sites is estimated to be in the tens of millions.
Bertrand Van is one of the many people affected by today's outage:
My www.DolwolfianPhotography.com website is actually down due to an outage at GoDaddy web host provider.

You can have access to my website by the following address: www.DolwolfianPhotography.smugmug.com.
SmugMug supports CNAME for redirecting domains to its websites.
KOMarketing is having fun at GoDaddy's expense showing: "How we are staying occupied while #GoDaddy is down..." and posting a photo. Is that a meme in the making? Brett Lipton takes a different approach.
David Fernandes: "Dammit +Go Daddy got my site down >(".
At 4:04 pm EDT, GoDaddy tweeted: "Update: Still working on it, but we're making progress. Some service has already been restored. Stick with us". Oh yeah. Twenty minutes later, I still couldn't access godaddy.com. At 5:07 pm EDT, GoDaddy tweeted: "We're continuing our work to get back on track. This is our #1 priority. We'll keep posting updates here. Thanks for all the support". Fifteen minutes later, I briefly accessed the site. On refresh, I got a page with this message:
We are experiencing problems. We understand this is impacting some customers and we take this situation very seriously.

Everyone at GoDaddy.com is working to restore all sites affected by this outage as soon as possible.

Please see updates on Twitter.com by following @GoDaddy or on Facebook.

Thank you for your patience.

--Scott Wagner, CEO
Circling back to Anonymous' reasons: GoDaddy supported the controversial Stop Online Piracy Act, or SOPA, leading to a boycott of the registrar on December 29. Dump GoDaddy Day received widespread support. Wikipedia joined many others, as I did.
Today's takedown may do more to move customers from GoDaddy than the boycott. It's funny the things people will do for money, they won't for philosophic principles.
Are you a GoDaddy customer? Is your personal site or business affected? Will you stay or switch?