Windows tablets make big share gains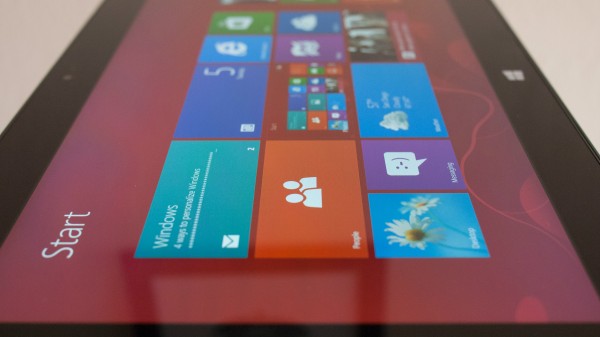 Back in December, I explained: "Surface RT sales are quite good, you just don't know about it". The Internet Idiocracy called the tablet a failure, while based on sales per store I saw success. Surface Pro shipped the following month. Now there are real numbers, and they're quite good -- for all Windows tablets -- validating touch-focused Modern UI.
During first quarter, Windows captured 7.5 percent global branded tablet market share, according to Strategy Analytics. That's up from zero a year earlier. Unit shipments: 3 million. Right now, Microsoft is the major seller of branded Windows tablets. Granted there are others, like Acer, ASUS, Dell, HP and Samsung.
Actually, Strategy Analytics notes that limited distribution, apps selection and market confusion -- not Android or iOS competition -- hold back Windows tablets. If Microsoft and partners get their ducks in a row, the tablet market could look dramatically different in a year. The point: The software giant may prove to be right after all; many buyers want to run a real operating system, one proven to handle the tasks of robust applications, rather than one migrated up from smartphones.
In February, Microsoft extended Surface RT distribution to more than a dozen new countries and yesterday announced Pro expansion, too. That's sign of changing times.
The ecosystem around Windows 8, and RT, is far from mature, which is the barrier to bigger sales success. There, despite all the controversy about Modern UI, Microsoft made the right choice -- that is if Windows tablet share gains continue.
"We built Windows 8 with touch and mobility at the center of the experience, which positions us well in this new era", Microsoft CFO Peter Klein tells financial analysts last week. "However, the transition is complicated, given the size of our hardware and software ecosystem. We still have an immense amount of work to do, yet we feel good about the foundation we have laid and are optimistic about the long term success of Windows".
Something else: Windows 8/RT will come to smaller devices this year, which, according to NPD DisplaySearch is where the tablet market is headed. Microsoft is "working closely with OEMs on a new suite of small touch devices powered by Windows. These devices will have competitive price points, partly enabled by our latest OEM offerings designed specifically for these smaller devices, and will be available in the coming months", Klein says.
Strategy Analytics data shows there is demand for Windows tablets and validates Microsoft's emphasis on touch. Klein is right: "Consumers and businesses are increasingly shifting their focus to touch and mobility". I love Surface Pro, which experience is so good, I came to really like Windows again.
As Microsoft ramps up Surface distribution and partners bring more touch-Windows devices to market, greater share gains are attainable. How much depends on other factors. My expectation is with autumn release of Windows 8.1 nearly certain, Microsoft and partners will invade the market with many touch devices for Christmas.
Global Tablet Operating System Shipments and Market Share
| | | | |
| --- | --- | --- | --- |
| | | | |
| Global Branded Tablet OS Shipments (Millions of Units) | | Q1 '12 | Q1 '13 |
| Apple iOS | | 11.8 | 19.5 |
| Android | | 6.4 | 17.6 |
| Windows | | 0.0 | 3.0 |
| Others | | 0.5 | 0.4 |
| Total | | 18.7 | 40.6 |
| | | | |
| Global Branded Tablet OS Marketshare % | | Q1 '12 | Q1 '13 |
| Apple iOS | | 63.1% | 48.2% |
| Android | | 34.2% | 43.4% |
| Windows | | 0.0% | 7.5% |
| Others | | 2.7% | 1.0% |
| Total | | 100% | 100% |
| | | | |
| Growth Year-over-Year % | | 146% | 117% |
Challenges are ahead. During first quarter, iPad captured 48.2 percent tablet market share, according to Strategy Analytics, while Androids took 43.4 percent. However, when including unbranded, white-box devices, Android tablets lead with 52 percent share to iPad's 41 percent. Windows slates face an uphill road, and yet seen another way downhill.
The discreet tablet market isn't the only measure of success. Most analysts agree that tablets are a major reason for about 10 quarters of PC shipment declines, with Q1 being the worst since IDC started tabulating numbers in 1994. Given that the majority of PCs sold or in-market run Windows and the majority of tablets do not, Android and iOS gains take away from Microsoft's platform. So the measure of that 7.5 percent market share, and any gains to follow, is an iceberg. The number is bigger than it appears. Sales below the surface represent people going from Windows to Windows rather than Windows to something else.
Photo Credit: Joe Wilcox