LG unveils the Optimus GK with a 5-inch 1080p display and Android 4.1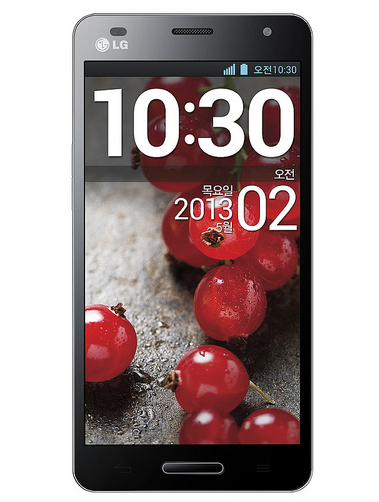 On Monday, South Korean manufacturer LG announced a new Android flagship smartphone called the Optimus GK. The handset shares its underpinnings with the previously-introduced Optimus G Pro that is designed for the Japanese market.
The Optimus GK comes with a 5-inch IPS display with a resolution of 1080 by 1920 and a 440 ppi (pixels per inch) density, similar to other devices like the Sony Xperia Z. There is a 1.7 GHz quad-core Qualcomm Snapdragon 600 processor inside, backed by 2GB of RAM and a large 3,100 mAh battery. So far, so good, but what about the rest of the specs?
The handset also sports 16 GB of internal storage, which is practically mundane these days, alongside a microSD card slot which can extend the storage capacity by a further 64 GB.
On the back there is a 13 MP camera, while on the front the Optimus GK comes with a 2.1 MP shooter. Although LG makes no mention of this, 1080p video recording is definitely possible using either of the two cameras.
In terms of connectivity the Optimus GK supports 4G LTE and HSPA+ cellular networks; Wi-Fi 802.11 a/b/g/n; NFC; USB 2.0; Bluetooth 4.0 and the traditional array of sensors.
The Optimus GK ships with Android 4.1.2 Jelly Bean, which is one software generation behind the latest green droid iteration. Considering that Google I/O is just around the corner and the software giant may release a new version of Android, it's not unreasonable to assume that the Optimus GK will remain even further behind, unless LG is quick to update the software.
The Optimus GK measures 139.1 x 69.9 x 9.9 mm and weighs 156 grams. Considering the sheer size of the display and the beefy battery that it packs, the smartphone is actually of a decent size. By contrast, the Samsung Galaxy S4 comes in at 136.6 x 69.8 x 7.9 mm and 130 grams, but sports a significantly smaller 2,600 mAh battery.
There is no word yet regarding the availability nor the price of the Optimus GK.