Eight things Google should be thankful for in 2012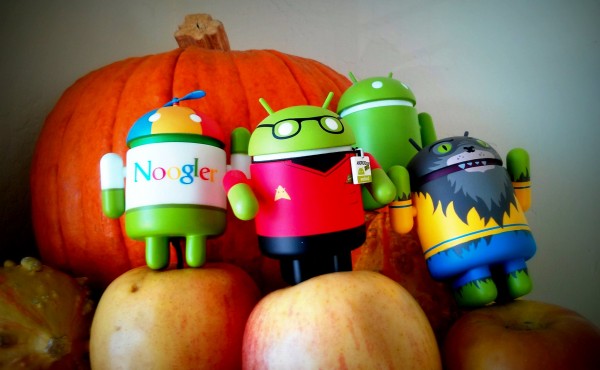 US Thanksgiving is a time for reflection on the year behind, with plenty of time to ponder resolutions for January 1st. Yesterday, I posted about the things Microsoft should be grateful for in 2012. Today, I followed up with another, for Google. For consistency's sake, the list numbers eight, in line with Microsoft's, for which I chose to hat-tip Windows 8.
The list is by no means comprehensive, just some things that stand ahead of others -- and it is organized from least to most important. Google had a great year, perhaps the best ever. Few companies released more innovative products, affecting so many people and building such positive brand awareness.
8. Android Collectibles. Google's green robot is highly recognizable and iconic. It's a brilliant brand image, in part for its simplicity and emotional appeal. Designer Andrew Bell and company imbue the little droid character and give enthusiasts something to collect -- and they do.
7. iPad mini. As usual the Apple Fan Club of rumormongers was wrong. Apple didn't price iPad mini at $299 or even $249, which could have been disastrous for Nexus 7 (see #4 for more on that tablet). Instead, the Cupertino, Calif.-based company put margins first, and quite possibly at the expense of sales. iPad mini pricing ranges from $329 to $659 (cough, cough). You sure don't like the price. Among the roughly 1,000 people responding to our buying survey, 78.98 percent say they won't buy the tablet.
Compare that to our February buying poll, when we knew the size and not the price (and many assumed $199): 55.77 percent of the 3,629 respondents answered "Yes". The point: Price matters, and Apple asks too much, which is just fine for Google. Consider that Nexus 7 with higher screen resolution and same storage capacity (but not rear-facing camera) costs $130 less than the cheapest mini -- or that a 32GB with cellular radio is $299.
iPad mini surely won't flop, but Google needn't fear sales suck from either of its Nexus tablet models, whether 7- or 10-inch screen size.
6. Ingress. Few games in recent memory generate more buzz than Ingress. In part because not everyone can play. Yet. Invites are required, and Googler Brandon Badger doles them out. He's a stingy bugger. The big trend is to entreat him with artwork or other creations for the invites, which generates even more buzz and excitement to participate (I tried twice and got nothing -- here and here; no invite here). This is a huge branding win, and takes social to new levels.
Basic premise, from the official app description:
A mysterious energy has been unearthed by a team of scientists in Europe. The origin and purpose of this force is unknown, but some researchers believe it is influencing the way we think. We must control it or it will control us. "The Enlightened" seek to embrace the power that this energy may bestow upon us. "The Resistance" struggle to defend, and protect what's left of our humanity. Install Ingress and transform your world...

Move through the real world using your Android device and the Ingress app to discover and tap sources of this mysterious energy. Acquire objects to aid in your quest, deploy tech to capture territory, and ally with other players to advance the cause of the Enlightened or the Resistance...The struggle is being played out globally. Track the progress of players around the world, plan your next steps, and communicate with others using an Intelligence map...

The struggle to save the planet spans the entire world. Groups of people acting together can be more effective than individuals acting alone. Cooperation across neighborhoods, cities, and countries will be needed to achieve the ultimate victory.
The game is part of Google's Niantic Project.
Directly, Ingress accomplishes several things:
Participants use Android phones
People get out walking or biking
They get to better know places around them
Google improves walking directions for Maps
In process everyone plays a fun game and perhaps connect to other people close to them.
5. Apple Maps. How could something seemingly so bad turn out so good? Apple dumps Google Maps for its homegrown product, which initially brings bad press to the search giant. Except, the new app sucks. I searched for "fashion valley" inside of Fashion Valley Mall in San Diego, and Apple Maps pulled up Skin Valley area of Paris. That's right France. Blogs and social networks spread similar stories everywhere. For a company so bent on controlling marketing, the negative buzz is disastrous. You know, Mayan apocalypse-like.
Apple Maps ranks up there with Microsoft Bob for fiasco software debuts. Google Maps got lots of good publicity -- with great context: Oft-claimed innovative Apple is stinking PU. Google capitalized by releasing several stunning new features during the great iOS 6 Maps backlash. Companies can't pay enough for free, brand-building marketing like this.
4. Nexus 7. In July, Google started selling a 7-inch tablet made by ASUS running Android 4.1. The $199 Jelly Bean device immediately sold out and proved popular with mainstream consumers as much as geeks. ASUS puts monthly sales at about 1 million a month, which is consistent with data IDC released late last month. Nexus 7 stole mind share and market share from Amazon Kindle Fire, which Google desperately needed.
A year ago, Amazon stormed the tablet market with the original Kindle Fire, for just $199. It's $159 today. The original Kindle Fire sold so well, it fragmented the Android tablet market. Amazon ships customized Android, with its own browser (Silk) and app store (not Google Play). Google responded by rebranding Android Market, increasing the breadth of content from Play store and releasing the 7-inch tablet. By Nexus 10's November 13 launch, Google had in place a curated platform to compete with Amazon, as much as Apple.
3. Samsung. The South Korean conglomerate became Google's most-important OEM partner in 2012. Samsung more than any other manufacturer pushed ahead Android, and iPhone aside. The company sold 98 million handsets during Q3, of which 55 million were smartphones, according to Gartner. (To be clear: Sales to end users, not shipments to carriers and dealers.) In the latter category, that's more than double second-place Apple; Samsung commands 32.5 percent market share and smartphones account for 56.1 percent of sales.
Android sales share was 72.4 percent, up from 52.5 percent year over year, in Q3. Meanwhile iOS fell to 13.9 percent from 15 percent. Another perspective: Android share is up from 56.1 percent in Q1 and 64.1 percent in second quarter. Respectively, iOS is down from 22.9 percent and 18.8 percent. Trend applies to unit sales. Android sales rose from 81.07 million units in first quarter and 98.5 million in Q2. Respectively, iOS fell from 33.1 million and 28.9 million. Samsung by far drives the largest Android volumes.
2. Android Army. I often say that enthusiasts are any company's best marketers. Whoa, are Android users enthusiastic and loyal. They approach Apple-like devotion, although for quite different reasons. The Android Army appreciates openness, rooting, customization, choice and value among other things (please add to the list, if you like, in comments). They're not obsessed with paying top-dollar for the newest pretty thing (like the Apple cult).
Google sold out Nexus 4 within hours of its release 9 days ago. While enthusiasts expressed frustration, they remain surprisingly patient. Last week, I asked: "How does the Nexus device shortage affect you?" Only 7.73 percent who want one of the sold-out Androids "will buy something else instead". That said, half of you "would order if devices were in stock".
But Google would be wise not to press this loyalty too far. Give the people what they want already. It's better to have them glowing about their new toys than griping about cancelled or delayed orders.
1. Google Now. There's a good reason why Popular Science calls Google Now "innovation of the year". The service represents a watershed development. Google successfully presents its depth of search and contextual services in a truly meaningful manner -- one that can change how people interact with mobile devices. You don't have to search. The feature tracks activities and location, anticipating what information the user needs before asking and presenting it contextually.
Google Now presents information in "cards". Is there an accident on your daily commute? Google Now will tell you. Is there an interesting nearby event, you are notified. Ditto for public transportation and time the next bus or train will come. Last week, I ordered a keyboard and case for Nexus 10, and Amazon sent shipping emails for both. The notices appeared in Google Now cards, rightly anticipating something I wanted to know about.
The service debuted with Android 4.1 in July, and Google dispatched a new iteration alongside v4.2, which released November 13. Apple's Siri simply can't compete.
Google Now is where the search giant extends contextual cloud computing in a big way. As I expressed 12 days ago, contextual cloud computing replaces the PC era. Google Now is the poster product for that future. Google, give thanks but also give us more services just like Now.
Photo Credit: Joe Wilcox