Major takeaways from the first days of Salesforce's Dreamforce '12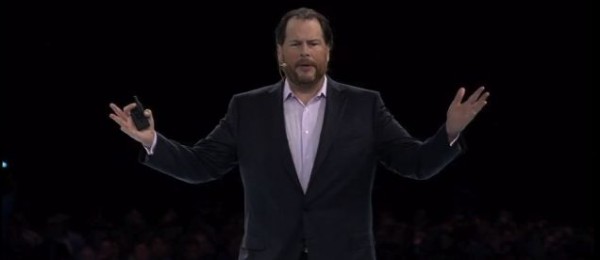 Maybe it wasn't drool-worthy enough for heaps of fanboys to liveblog, but Leading Cloud CRM provider Salesforce has already rolled out a host of big news at its week-long Dreamforce conference in San Francisco. Some of the news has been in the form of new product unveilings and new partnerships that focus primarily upon expanding Salesforce's social CRM functionality, and growing its business into newer, less-trodden territory.
Some of the news has taken the form of progress updates on Salesforce as a company, and on the state of enterprise cloud business as a whole. Those who are acutely aware of bubble-like investment opportunities where growth is fast but returns on investment are uncertain will want to take note.
First to three billion -- Salesforce expects to be the first enterprise cloud company of any sort to reach $3 billion in revenue in fiscal 2013. By huge multinational corporate standards, Salesforce is tiny. But in the software industry last year, it was one of the top 25 largest software companies because of its $1.62 billion in total revenue and rapid 30 percent growth rate. Using its current revenue run rate, the company expects to exceed $3 billion this year. There aren't many other software companies performing that well.
Over 70% of businesses use social media, but...-- In his keynote yesterday morning, Salesforce Chairman and CEO Marc Benioff cited an MGI study from July which said 72 percent of businesses are utilizing social media in some way, and followed it up with IDC data that said social is the fastest-growing area in IT. What Benioff did not mention was that there is no clear route to realizing this growth potential. In the same study, MGI also said "the most powerful applications of social technologies in the global economy are largely untapped," and that companies will continue to try new ways to engage with consumers and gather intelligence for product development, marketing, and customer service, but it's currently unclear which is the right way to go.
With this fact in mind, let's look at the new things Salesforce announced yesterday to try to realize this social growth potential, and continue its rapid overall business growth:
Salesforce Marketing Cloud-- Yesterday, Salesforce unveiled a new product for marketers that unifies social listening, content management, engagement tracking, advertising, workflow, automation and measurement in a single cloud-based suite. The Marketing Cloud utilizes social media monitoring tech from Radian6 and customer insight from Buddy Media to build a comprehensive social marketing management offering.
Work.com-- As IBM showed with the acquisition of Kenexa in August, cloud-based Human Resource Management, Talent Management, and Time Tracking are more areas of potential growth. As such, Salesforce yesterday announced Work.com, a social performance management platform that helps companies measure and drive employee performance. Today, Salesforce announced a partnership with Workday that integrates Workday HCM into Work.com. This takes workplace connection data and integrates it into Work.com to help managers create social goals, and improve employee motivation.
Chatterbox-- In both the consumer and enterprise space, cloud-based file lockers and document collaboration services are wildly popular, and companies are still trying to become Dropbox for the Enterprise Space. Salesforce has unveiled its version of a secure, managed Dropbox-like application that allows enterprises to connect, collaborate and share files across different devices. Salesforce, like everyone else who has debuted a similar offering, has called it "The Dropbox for the Enterprise." Salesforce Chatterbox is scheduled to go into pilot deployments in the first half of 2013, and pricing will be announced at the time of general availability.
Salesforce Identity-- Similar to your Facebook login, Salesforce Identity is a single, verified login that is used across all Salesforce apps. Administrators can centrally manage identities, and under the new login, apps across multiple platforms can push important information to the user's Chatter feed.
Salesforce Touch-- Like the Freshdesk vs. Zendesk rivalry, Salesforce has shown that cross-device compatibility is of paramount importance in CRM interfaces. Yesterday, it debuted the HTML5-powered mobile Salesforce app for touchscreen tablets and smartphones. The app is available today on iOS devices, and included in all editions of Salesforce.
Chatter Communities for Partners-- Chatter, the Salesforce social networking platform, now can be customized to let companies create multiple private, branded social communities under the larger umbrella of their company. It takes social communities, and weaves them together with a unified social contact center, based on a common knowledge base, joining disparate channels. This will be pushed out in limited pilot deployments in Fall 2012, and will reach general availability in the second half of 2013, with pricing announcements preceding launch.
Data.com Social Key-- This takes public social information and weaves it into a company's business data. Social Key combs the social data on sites like Facebook, Klout, Twitter and YouTube for information relevant to a company's business. It harvests this information to develop a view into what customers are interested in and combines it with traditional contact data to give a deeper, creepier look at customers. Data.com Social Key will be available in the second half of 2013.
All of these things add up to the different ways in which Salesforce is attempting to capitalize on the potential growth of social customer engagement, which in many cases includes the closer observation of social data both within and outside of a company, of both a company's employees and its customers. Salesforce is a cloud software company indeed, but with the collection of so many streams of consumer and employee data, it's easy to see the progress it is making toward "Big Data."