Microsoft Surface Pro is a Swiss Army Knife in disguise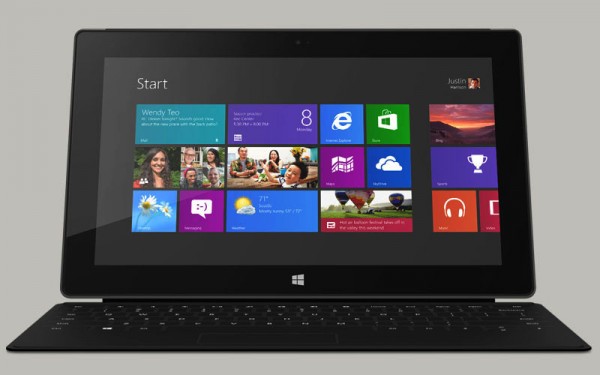 For those used to cutting the rope or drawing "something", Microsoft Surface Pro is not going to be the tablet for you. Microsoft's latest attempt to conquer the business end of the tablet market has left many puzzled as to why the software giant has priced a basically untested product right at the $900 mark, when the latest generation iPad starts at $499. They assume, perhaps understandably, that Surface Pro competes with Apple's pride and joy, yet they are wrong. Surface Pro is actually a miniaturized laptop trapped inside a tablet's shell.
For professionals and power users it doesn't take long to realize that Surface Pro is as far away as possible from a basic consumer-oriented tablet. The dead giveaway is the processor and graphics card combination -- a third generation Core i5 CPU paired with an HD Graphics 4000 GPU, both made by Intel. Together they really shout from the top of their silicons: "We really come from PC technology!" The naysayers should therefore understand where Microsoft is actually going with Surface Pro -- towards professionals and power users, not the Cut The Rope or Draw Something crowd (although it can be used for that too).
The "Surface Pro is doomed" phrase was used, and will still be used, on plenty of occasions when price is added into the equation. Starting at $899 the tablet is not cheap -- no one can really argue that when mobile computing can be had for less than $199. The Google Nexus 7 is a good example at the other end of the scale, yet just like with the iPad that is an apples to pineapples comparison. They all share the same basic principles (hence the "apples" in both names) but from there on each goes its separate way.
The price, however, is not really an issue, as my colleague Joe Wilcox pointed out -- "Seven out of 10 will buy Surface Pro". Whoa, something's really, really, really wrong with that finding. Isn't it? Actually no, because there is real value added into a rather boldly priced proposition. When doing the math and actually comparing Surface Pro to an equivalent laptop of the same prowess all the price tag complaints slowly fade far away into the background. Read the Microsoft Surface Pro is NOT overpriced article for an in-depth comparison between Surface Pro and Apple MacBook Air, from the pricing perspective.
As someone who actually owns a business-grade laptop that is used almost every single day for professional use, ranging from running Ubuntu inside a virtual machine to creating AutoCAD drafts or generating structural models, I view Surface Pro as being worth every single penny. Its range of capabilities is practically limited only by the battery life, outside the power grid. But only by taking a look at what Surface Pro can actually do will the naysayers then understand it.
The fact is, even Microsoft admits that its own branded device is a "64-bit tablet PC". That means that Surface Pro basically ships with Windows 8 Pro (hence the "Pro" in the name) in 64-bit trim, allowing the tablet to run practically any 32-bit and 64-bit software on the market, that's designed to work on Microsoft's latest consumer operating system. Coupled with the 4GB of RAM, Surface Pro can, for instance, handle Ubuntu 12.10 64 bit inside Oracle VirtualBox.
Yes, virtualization is not a problem and that's on a tablet that can also render full HD movies thanks to a large 1920 by 1080 resolution, play the latest tunes and games from the Windows Store and other sources as well. Want to give Call of Duty and Half-Life a go and listen to your favorite music in Winamp? You can do that and plenty more.
In the consumer tablet world, to some extent at least, apps have taken over from computer applications/programs and likely those users who embraced them don't place much importance on running legacy ones -- it's an improperly used term, yet it clarifies the difference between Windows Store-compatible apps and normal ones (like for Windows 7). However, as usually happens, there is always a market segment that is forgotten by consumer-oriented reports -- users who place a great deal of value on running professional-grade applications.
Surface Pro is designed to simply fill that void, as the tablet sports Windows 8 Pro, a fully-fledged desktop operating system. Professionals can run Adobe Photoshop, Microsoft Office or VMware Workstation for instance. Surface Pro simply provides access to the immense Windows ecosystem, a feature that not many tablets can tout.
The USB 3.0 port may not mean much today for the average consumer who takes advantage of cloud storage or transfers files via Wi-Fi, but for professionals it also means that an external HDD can be connected; a plain and simple mouse attached. Sure, it's rather cool to swipe about, but a mouse can get the job done much quicker inside larger spreadsheets and the higher connectivity speeds of USB 3.0 also means that transfers do not have to happen in a lifetime (USB 3.0 can theoretically handle speeds of up to 5 Gbps, while USB 2.0 is limited to 480 Mbps). That's covering all possible bases. The iPad can't do that, but that's fine because the iPad isn't designed to function as such.
My colleague Tim Conneally showcased the advantages of using a stylus on the Samsung Galaxy Note II and as someone used to drawing with a mouse inside AutoCAD I can entirely relate to how using a tiny "pen" can ease the process on a tablet. Professionals are normal human beings who adapt with the times, yet some jobs do require the same tools now as they did 10 years ago. The stylus on the Surface Pro basically eases the transition between a laptop or fully fledged computer, paired with a mouse, to a tablet. Not many people will think of it this way because it requires a narrower focus, which is practically unusual when only dealing with consumer-oriented devices.
There are however some issues that need to be pointed out. Surface Pro may have a 48W battery but even Microsoft admits that its battery life won't break any records. And while the tablet may feature an USB 3.0 port there is just a single one on board, not two or three for extended connectivity options. Buyers are forced to choose what they want to physically attach and for how long they can spend disconnected from the power grid. And, unlike Surface with Windows RT, Surface Pro cannot be purchased as a tablet and keyboard combo. For those who want Microsoft's keyboard options, the price goes up by more than $100. Pricey, but is it worth it?
Surface Pro buyers will more than likely wish to purchase an accompanying keyboard and, seeing as the tablet offers USB and Bluetooth 4.0 connectivity alongside the standard Touch Cover and Type Cover compatibility, users will have a wide array of options to choose from. The built-in kickstand poses no issue for those who wish to go down the wireless path.
A Bluetooth keyboard paired with a DisplayPort-compatible TV and an attached mouse turns Surface Pro from a laptop trapped inside a tablet's shell into an actual boardroom/desk-friendly device. Instead of purchasing a plain desktop PC or a less than versatile laptop, one could easily just get Microsoft's tablet and enjoy it everywhere. Microsoft Surface Pro really is a Swiss Army Knife in disguise.