[Mihaita] The tech I used most in 2012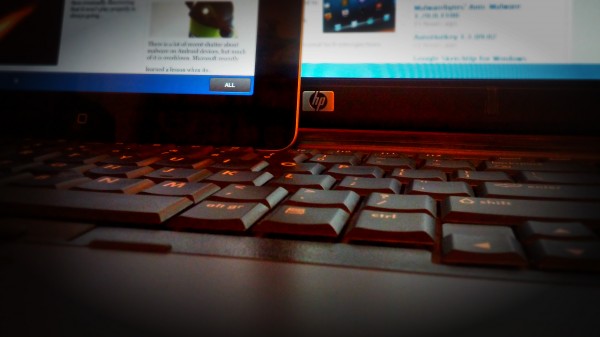 If there's one word that best describes my personal tech use for 2012, change is definitely it. For the most part of the year I "cheated" one platform with another, with no particular personal favorite to get me through (almost) 365 days. Each piece of software and hardware is used for a particular scenario, something that I find rather soothing for my personal early adopter endeavors as well as my sanity. I just can't stand tinkering with the same bit of tech for longer periods of time, although there still is a dear old friend in my life...
My colleagues Alan Buckingham and Wayne Williams already wrote about their personal tech choices in 2012, and now it's my turn. Without further ado here is what I used most throughout the year, starting with my trusty dear old friend.
HP 8710p
This professional-grade laptop has been with me ever since the second half of September 2008 -- in tech years "he" must be 70 or so of age. The specs seem rather modest right now, when there are laptops with quad-core processors, 16GB of RAM and even touchscreen displays, but it's working just fine for my personal needs even four years later.
The 8710p has a 17-inch panel with a 1680 by 1050 resolution, which is perfect for viewing two web pages concomitantly, and the CPU is decent enough to allow me run a fully-fledged desktop operating system inside a virtual machine, not counting the common apps such as browsers, media players and so on.
I even purchased some gifts for my old friend on "his" anniversary -- 4GB of RAM and Intel SSD 330 Series in 240GB trim. My laptop doesn't have to go, I care about it.
Windows 8
It's only fair that the software matches the hardware shortly after. Microsoft's latest foray into personal computer operating systems is still a mixed bag of seldom frustration paired with utter efficiency and ease of use most of the time. Yes, I use all three terms because that's what still happens after awhile. Sadly though, that insignificant other part might just be overly significant.
Windows 7
But not too long ago, before Windows 8 RTM'd, I was pretty happy riding the Windows 7 bandwagon. Unlike the former, the latter does not require any sort of patience on my behalf nor do I ever feel the need to change to a different Start menu or obliterate the new user interface. More than often do I think of downgrading (maybe improperly said so) rather than plowing though with the latest and (not) the greatest. New sometimes grows old fast, and old is just right.
Ubuntu
Throughout 2012 I've had my fair share of open-source operating system encounters, the most memorable of which is Ubuntu. I love the thing, but I keep our love affair inside Oracle VirtualBox or VMware Workstation/Player. I just don't want to be caught cheating by Windows 8 and have a blue screen of death my way.
I mainly use Ubuntu to test the waters, maybe (or finally) pull the plug and build Android. Yes, I recently discovered the joy of building the little green robot from the Android Open Source Project. It's a fun hobby of mine, of getting in touch with Ubuntu's open-source cousin and adding some worthwhile customization over the stock flavor. I even purchased an external HDD rack so I can run Ubuntu without a virtual machine. Hush, don't let Windows 8 know.
Google Galaxy Nexus
Galaxy Nexus is one of my favorite purchases of 2012. The Samsung-made smartphone has an excellent build quality, paired with a decent Super AMOLED display and rather awful front and back-facing cameras. Don't get me started on the battery life. Still, the combination of a sleek design, attractive price and immense developer support make up for any flaws I often find just as an excuse to acquire the (almost always out of stock) successor.
Android -- the Jelly Beans
Fact is, I purchased Galaxy Nexus mostly because I could run unadulterated Android 4.1 Jelly Bean. The green droid is almost perfect for my personal use -- I love widgets, the simple yet elegant design of the user interface. The customization options are rather impressive as well, there are a ton of apps that add useful functionality from weather info inside the notification panel to lockscreen widgets on Android 4.2 Jelly Bean. The latest treat in the candy jar is far from perfect, but I've grown to using the quick settings and the new features after a while.
Apple iPhone 3G
But for the most part of 2012 my smartphone of choice was iPhone 3G. Oh, the joy of an old handset when the Samsung Galaxy S III was touting a quad-core processor and a large 4.8-inch display. Needless to say, the 3G may have been my worst tech partner of the year -- enough said.
Apple iPad 2
The apple couldn't fall closer to the tree, especially after ditching the above mentioned device bearing the fruit logo. But fact is the iPad 2 is an excellent tablet especially for what I paid -- the display is quite good, the app selection is impressive with plenty of tablet-optimized offerings available on Apple's App Store and the iPad 2 still sports a dashing appearance paired with excellent build quality. The bitten apple-branded tablet surprised me when I (almost) swore that I would not buy one. I still can't do real work on the iPad, but I don't care as much now.
iOS
My day-to-day iOS experience comes from two, now old, devices -- the iPhone 3G and the iPad 2, but that's where the connection ends. iOS on the iPhone 3G is a rather frustrating experience most of the time because the operating system runs overly slow on slow hardware, and the app limitations shortly kick in.
On the other hand, iOS is a much more enjoyable operating system on iPad 2, that slowly matured up to a point where I can no longer pick major faults. Sure iOS does not feature the same customization option as Android 4.2 Jelly Bean, nor the same cool factor as Windows Phone 8, but I have not once felt the need to jailbreak it to get some useful functionality. It simply works, and I find that refreshing after installing a ton of custom Android distributions.
Google Chrome
Just like my colleagues Alan Buckingham and Wayne Williams, up to a point Chrome was my secondary browser. Today it is my daily driver on Windows 8, Ubuntu and Android; however, while it works great on the first two I can't say the same about Chrome on the green droid. Simply put it is slow and laggy, and I am highly tempted to switch to Dolphin for instance, except I love the syncing functionality just like Wayne Williams does. Of course, Chrome does not come without its caveats -- I don't like the ton of processes nor the lack of live bookmarks a la Firefox.
Mozilla Firefox
For the most part of 2012, I roamed around the Interwebs alongside my first browser crush -- Mozilla Firefox. In some regards Firefox is like Android, with plenty of customization options through a myriad of extensions and themes. However, unlike Android some blokes working at Mozilla placed "foxy" on the wrong track where I no longer find it appealing to have as a cross-platform browser. Just yesterday Firefox crashed on Ubuntu. It took me less than a few minutes to get Chrome up and running.
What else?
In late 2012 I found myself using cloud storage services even more. I now have Box, Dropbox, Google Drive and SkyDrive on each of my daily driver devices. I also slowly gave up on using Microsoft Office to write articles at BetaNews, and decided to embrace WordPress instead. Not great, but less of a headache to have most of the time for editing purposes.
Things I want to get in 2013
Lately my early-adopter habits almost got the best of me, but I decided to postpone any wallet-burning decision for 2013. Next year I plan on purchasing a Windows Phone 8 handset, maybe a Nokia Lumia 920 or HTC Windows Phone 8X. The latter seems like a more logical choice considering it runs for two-thirds of the former's price, but I guess I'll have to wait and see how the Lumia 920 actually is (no local availability at the moment).
Still, in the smartphone department Google Nexus 4 is a desirable handset as long as it's cheap and there are no other Nexus-branded devices on the horizon by the time it shows up locally. I don't wish to give up on Android, but rather upgrade from the Galaxy Nexus to a better device, which is why I'm also eyeing a future Samsung-made smartphone like the Galaxy S IV or HTC's successor to the great looking One X/One X+. Decisions, decisions...
I also plan on replacing my laptop for a new generation model, still professional-grade if possible. I like a rugged design and quality build, a combination which I only find to work best on professional laptops. I'm eyeing an HP EliteBook 8770W at the moment, unless there's an 8780W incoming. Yes, someone actually wants/plans to buy a laptop in 2013.
Basically if I could afford it, I would buy every new gadget under the Sun. Sadly I cannot do that at the moment, so "Things I want to get in 2013" might just be "Things I want to get in 2013, but will not" later on.
Photo Credit: Mihaita Bamburic