The most popular stories on BetaNews this past week -- November 10-16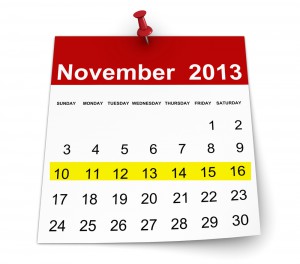 It would be a strange week if Google didn't steal a few headlines, and this week saw the introduction of new quick actions to Gmail as well as the launch of a series of online tools to help with the aftermath of the Philippines typhoon. Changes were also made to attachments in Gmail so it is now possible to download files directly to Google Drive. After the launch of the Nexus 5 -- which Brian was not blown away by -- Google also started to roll out Android 4.4 to Nexus tablets -- Mihaita was on hand with a guide to manually upgrading for anyone who did not want to wait for the OTA update to arrive. The news wasn't so good for the Chromebook 11 which was taken off sale after problems with overheating chargers. Google won a court battle after a judge ruled that the scanning of books is not illegal.
This week it was revealed that while BitTorrent still accounts for a large proportion of web traffic, and usage has actually increased in Europe, in the States there has been a drop in traffic. Anyone who seeks entertainment through other channels will be pleased by the fact that Roku streaming boxes can now be used to access Disney and ESPN channels. The Netflix channel was also updated with a new look.
Apple's iPad mini with Retina display was officially launched after last month's announcement -- but is it anything all that special? If you feel Apple's offering is slightly out of your price range, Hanspree launched a super-budget 13-inch tablet for just $318. New research revealed that by 2017 our smartphones could outsmart us but this will be little comfort for Microsoft who finds that Windows Phone still trails in third place behind iOS and Android.
For anyone who works during the week -- which, frankly, is most people -- placing online orders means planning to be home to receive deliveries. Things just got easier for Amazon Prime customers after Amazon announced Sunday deliveries for certain parts of the US.
Black Friday is lingering on the horizon, and there are sure to be plenty of bargains to be snapped up. If you've been holding off getting a Surface tablet, now could be the time to jump on board as Best Buy is lopping a massive $150 off the regular price, dropping it down to under $200. Intel also published a holiday buying guide for anyone struggling for gift ideas. There's not long left until the Xbox One is released and to keep the hype going, Microsoft showed off SkyDrive running on the console.
Online, Twitter introduced custom timelines and the previously US-only ad platform was opened up to businesses in the UK, Ireland and Canada.
Facebook announced the Facebook Login API which can be used by developers to log into apps, share data and more, all using a Facebook profile. Great news for European travelers came as the European Commission OK'ed the use of 3G and 4G data connection on flights.
So, this week we had the PlayStation 4 and next week there's the Xbox One to look forward to. It promises to be another packed seven days!
Photo Credit: vinz89/Shutterstock