Sorry, Tim Cook, apology not accepted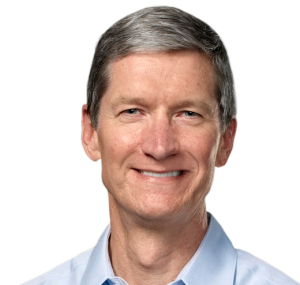 Apple's CEO is "extremely sorry" about the "frustration" the company's homegrown maps app "has caused our customers". Sorry isn't good enough because it's directed at the wrong place. Apple replaced Google Maps in the newest version of iOS on September 19, and even Cook admits "we fell short on this commitment" to "make world-class products that deliver the best experience possible to our customers". Simply stated: Apple Maps app sucks, but he apologizes about the wrong thing.
Cook's letter of apology should go further and get to the root problem: Why Apple ditched Google Maps in the first place. Before his death, Steve Jobs told his biographer that Google's Android essentially is a stolen product, a copycat: "I'm willing to go thermonuclear war on this". Apple bombs Android competitors with patent lawsuits, risking fallout in the form of legal precedents that could hurt all tech companies. Apple's dumping Google Maps, and also YouTube, from iOS are warfare tactics -- and bigger than copying concerns when looking at local search as future ad revenue opportunity. Apple customers are collateral damage from nuclear fallout that is the new mapping app.
Misdirection
What exactly is Apple's priority? Competitors or customers? Microsoft lost its way chasing Google. Now Apple charts similar path. Four months ago, I started a personal Apple boycott because of abusive patent litigation but weeks ago expressed desire to end it if the company stopped the thermonuclear war. Other people are angry, too. At Google+, #boycottapple typically ranks highly among trending topics.
Something else: Why didn't Cook apologize sooner? Rage against iOS 6 Maps started with the first reviews about 10 days ago. As a journalist, I always ask this question: Who benefits? That applies to today's letter to Apple customers. Who benefits from Cook's apology? I see some social network postings praising him for coming clean. I might agree if he had done so, say, during the first three days of negative responses -- when mainstream journalists asked questions but got few answers.
Instead, Apple spokesperson Trudy Muller gave non-response: "We launched this new map service knowing that it is a major initiative and we are just getting started with it. We are continuously improving it, and as Maps is a crowd-based solution, the more people use it, the better it will get".
Apple is a company for which brand image, and marketing supporting it, is paramount. An admission of guilt soon after iOS 6 released risked overshadowing iPhone 5's September 21 launch in 9 countries. But a week later, as the handset goes on sale in 22 more countries, the maps controversy has gone on long enough to be a real marketing problem.
BetaNews commenter arcana112 calls Apple's map strategy "arrogance in its purest form. At this stage they feel that they can literally throw anything at their customers and they will gladly eat it up".
Perhaps Apple execs expected the company's typical Teflon coating -- favorable blog, news and social media response -- would be protection enough. Instead, iOS 6 is a wildfire of controversy that needs to be extinguished.
Last week, I asked: "Will Apple Maps keep you from upgrading to iOS 6?" So far, 54 percent of you answered yes. Only 21.34 percent will upgrade, which coincidentally is exactly the same number that don't have iOS devices. But I asked the wrong question. More appropriate: Will Apple Maps keep you from buying iPhone 5?" Surely Apple is concerned with that answer.
The point: Cook's apology is self-serving. It's not about customers, but Apple. The same can be said about the thermonuclear war.
Wrong Direction
iOS 6 Maps is a surprising experience, shocking for anyone accustomed to Apple usually delivering above-average one. Colleague Wayne Williams calls Apple Maps a "huge downgrade" in his review of the product. My experience isn't much better, as expressed in my iPhone 5 review. Across the web, torrents of complaints rage about Apple's product -- that it's a downgrade from Google Maps, places are misidentified and directions go the wrong way. Testing iOS 6 maps, I searched for "fashion valley" inside San Diego's Fashion Valley Mall and got a map for Skin Valley in Paris.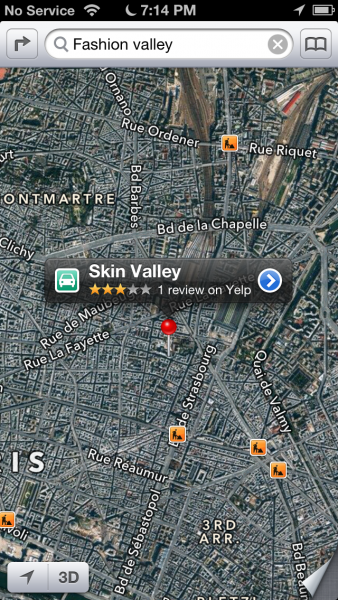 Customers wouldn't be here, if Apple partnered more than competed. I'm amazed Apple allows as many Google apps as it does on iOS, with Chrome being most striking. Not that it's by any means fair play. Apple favors mobile Safari, which is the only default browser and one given a speed advantage over rival products. By the way, in June I asked "Will you swap Safari for Chrome as your primary mobile browser?" Fifty-six percent of you answered "yes".
It's unfair to totally blame the thermonuclear war. Apple is well-known for controlling customer experiences end to end. Mapping is one of the most-used applications, particularly as more people rely on smartphones for navigation and local search. About three-quarters of US smartphone owners use location-based services, with mapping programs ranking among the highest, according to Pew Research.
Obviously Apple wants to control the user experience. But why not go in stages, by introducing Apple Maps but keeping Google's product, too? Then customers have a fall-back option while Apple improves its product over time -- and that's what it takes. Apple can't match Google's rich product overnight.
BetaNews reader bitslasher observes:
They rushed it out, and in the process tarnished their brand and reputation. When the iPhone was in development it was delayed for years until it felt it was ready. What would have been the harm in waiting for another year? IMHO going out with something half-baked is worse than going out with nothing at all. No one would have been any the wiser and in a year it would have been a lot better, no doubt.
So why not go slowly? It's a question of Apple priorities. Google Maps is a parasite. Writing for the Washington Post, Dominic Basulto smartly asks: "Remember what algorithms were to search? That's what maps are to mobile". Yes, absolutely. Apple decided to cut off Google Maps completely to make way for its own product, even if hugely inferior.
Mobile is the future of computing, and smartphones lead the way. IDC predicts shipments of smart devices -- connected PCs, smartphones and tablets -- will reach 1.2 billion units this year. Smartphones make up 59 percent of the segment. These mobiles are more personal and more present (meaning nearly-always carried) than PCs. Eyeballs are potential ad dollars that Apple surely wants to tap long term. The advertising tie-in to local search through maps is mindboggling. Apple wants a cut of that pie, to control it.
Writing for All Things Digital John Paczkowski uses unnamed sources to chronicle the process leading to Apple dumping Google Maps and rushing its homegrown product to market. Google wanted more branding, Apple demanded turn-by-turn navigations, he claims. The only real certainty: Apple wasn't willing to go on providing the best experience to customers, choosing instead to put other priorities first. C`mon, what good are turn-by-turn navigations if they lead people to the wrong destination?
Cook's apology is as misguided as the directions Apple Maps gives.