The most popular stories on BetaNews this past week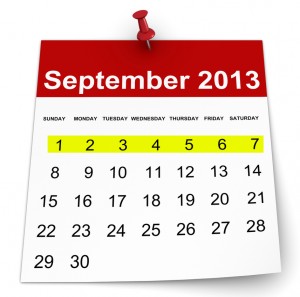 Looking at the biggest stories on BetaNews from September, 1 - 7, 2013. This was a week packed with news from IFA in Berlin -- lots of big announcements to whet our appetites for the coming months. LG's G Pad was revealed as a potential competitor to the Nexus 7 and iPad mini, while Acer was found to be proudly showing off its new R7 notebook complete with innovative Ezel hinge that allows for a range of working positions.
IFA was also where Samsung unveiled the Galaxy Note 3 as well as the Galaxy Gear smartwatch which will allow us all to live out our Star Trek dreams. It wasn't long before Note 3 pre-orders were being taken. If you've noticed that phones are getting bigger and bigger, the same is certainly true of tablets -- the Panasonic Toughpad 4K is a staggering 20 inches from corner to corner.
Not quite a tablet, but not really a PC, HP's 23- and 27-inch ENVY Recline TouchSmart PCs were announced, while Lenovo revealed the new Vibe X smartphone and S5000 tablet.
The old adage tells us that as one door opens another one closes. This week it was China that shut the door on Yahoo while the door of opportunity opened up as Microsoft bought Nokia's phone arm from the Finnish company. This wasn't the only purchase in the news: Vodafone also sold its share of Verizon Wireless for a healthy $130 billion.
An interesting partnership also emerged between Microsoft and the NFL while Yahoo tried to keep itself in the headlines by revealing its new logo. Two updates to Bing this week changed the way video search results are displayed as well as unleashing a new-look version of Bing News.
In the world of software, Spotify revealed details of its stream-music-to-your-speakers-or-devices service Connect. Canonical announced that Ubuntu downloads will now default to the 64-bit version rather than 32-bit -- Brian felt this had been a longtime coming.
Google took a lot of people by surprise by announcing that the successor to Jelly Bean would not be Key Lime Pie as previously expected, but KitKat. Brian and many others were not impressed.
Fans of ebooks had an unusual amount of news to digest this week. Amazon announced its Matchbook service which offers cheap or free e-versions of physical books purchased through Amazon. Amazon was also proud to show off its new Kindle Paperwhite, while Apple lost a lawsuit relating to price-fixing in the ebook market.
Moving to the desktop, Chrome celebrated its fifth birthday. To welcome becoming old enough to go to school, Google released Apps for desktop, further blurring the boundaries between offline and online apps.
We already knew the release date of Sony's PlayStation 4, and Microsoft finally revealed when eager gamers can get their hands on the Xbox One -- November 22. To help stir up interest, a new advertisement was aired.
By its very nature, this new roundup looks back in time, but Bristol University is looking to the future. Anyone wishing to see where the future of computing could lead might like to take a look at the university's quantum computer simulator.
Phew! A busy week... time for the next seven days of fun!
Photo Credit: vinz89/Shutterstock