The most popular stories on BetaNews this past week - November 24 -- 30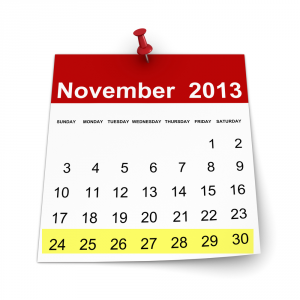 It being the week of Thanksgiving, anyone looking for a bargain will have been eagerly anticipating Black Friday. The big names did not disappoint including Microsoft who had special prices on Surfaces. If you were undecided between buying a Surface or an iPad, Microsoft compared the two devices so you don't have to -- and there are no prizes for guessing which comes out on top! If you give or receive giftcards as presents this year, they can now be used to pay for things through PayPal checkout.
Microsoft's Scroogled campaign may not be in the spirit of the season, but it continues apace. In one advert, the services of Pawn Stars were called upon to take a pop at Google's Chromebook -- Alan was less than impressed. Brian, however was pleased to be the recipient of a surprise, unadvertised mug having placed an order via the Scroogled store, and Joe is a big fan of the campaign. Speaking of Chromebooks, Acer announced an ultra-cheap touchscreen device in the form of the C720P.
In another ad campaign, Microsoft aims its barrels at the Samsung Galaxy Tab 3 while speculation mounts about whether Windows RT might be on the verge of disappearing.
It may be the time of year when most people are thinking about presents and turkey, but at Time magazine it is when the Person of the Year is considered. There are a little under two weeks until the announcement is made, and the magazine is looking to Twitter for suggestions -- there's still time to nominate your suggestion if you're quick! Virgin's Richard Branson came out as the latest supporter of Bitcoin, saying that it will be possible to use the virtual currency to pay for a trip to space on Virgin Galactic.
It's not quite clear what may come of it, but Apple this week purchased PrimeSense, the company behind the Xbox's Kinect unit. Following on from the recent launch of the Xbox One, Microsoft responded to disappointed gamers who found themselves with a problematic console by saying that the issues are being looked into and that those affected by the problem will be entitled to a free game download. For anyone who does have a working console, Microsoft released a voice and gesture cheatsheet to help users learn the new commands.
The Samsung Galaxy Grand 2 was introduced as the latest addition to Samsung's phablet range, although it is certainly not the largest devices to fall into this category. Samsung and HTC were delisted from Futuremark's 3DMark app after suspicions that the two companies were artificially boosting device performance when benchmarking software was running. For anyone on a budget who doesn't want to make too many compromises, the Moto G from Motorola looks like and interesting option. This wasn't the only cheap handset unveiled this week -- Nokia also announced the Lumia 525.
Following the recent rollout of KitKat to various Nexus devices, the HTC One Google Play edition also received the update. Elsewhere, Google has promised to make changes to the way the new Google+ commenting system works on YouTube.
This was a week in which we looked at quite a few pieces of hardware. Alan was impressed with the Kindle Fire HDX noting a number of improvements over its predecessor. Looking at peripherals, Brian was rather taken with the Feenix Nascita 2014 gaming mouse and Dimora mousepad. Looking for a cheap monitor? AOC's 27-inch e2752She could be what you're looking for.
I entered whinge mode, complaining about the prevalence of online spoilers for TV programs -- bah humbug!
With Thanksgiving out of the way, this week should be even busier: bring it on!
Photo Credit: vinz89/Shutterstock